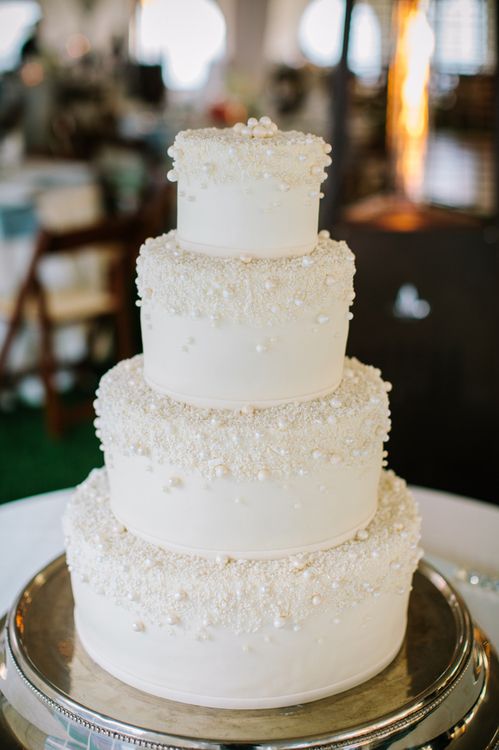 A match made in heaven
It is a rare phenomenon that you see a wedding without pearls in some place on the bride, her accessories or on embellished wedding items and accessories. Being white, ivory and a variety of different colours to suit all tastes pearls are simply the most perfect wedding accessory money can buy.
From peal encrusted wedding dresses to pearl necklaces and hair accessories pearls can be seen everywhere. You may think that pearls are the perfect wedding accessory due to their colour, but there is more to the preciously little gemstones than meets the eye. You may be a blushing bride but how much do you really know about your pearl embellishments?
As indicated by the Cultured Pearl Information Center, pearls were no doubt found a great many years prior by individuals looking for nourishment along the seashore, sounds romantic doesn't it! Also, because of their breath-taking, shining glow, the natural pearl has been prized from that point onward. In one legend, Cleopatra is said to have dissolved a pearl in a glass of wine before drinking it, basically to win a wager with Marc Antony that she could expend the abundance of a whole nation in only one dinner. Yet, in a variety of that story, the disintegrated pearl was proposed to help her.
Since ancient times, the pearl has been an image of unblemished flawlessness. It is the most seasoned known jewel, and for quite a long time it was viewed as the most significant and of course, valuable. Pearls have been viewed as perfect wedding blessings in light of the fact that they symbolize virtue and purity. In the Rigveda, an ancient Hindu book going back to 1000 B.C. Krishna, the preserver, delivered pearls from the profundities of the ocean to provide for his girl on the day of her wedding. Consequently began the convention of offering pearls to the lady – bet you didn't know that!
The ancient Greeks likewise trusted that pearls ought to be a piece of the wedding knowledge. They considered pearls to be the "wedding jewel" on the grounds that they trusted that pearls would help guarantee wedded bliss and keep a freshly-wed bride from crying. Amid the Crusades, heroic knights coming back from the Holly Lands would give pearls to their "fair ladies" for their wedding days. In the fourteenth and fifteenth centuries, pearls were at the stature of wedding style with regal weddings in the French House of Burgundy occurring in an "ocean of pearls". Everybody from the lady to her male visitors were decorated in gleaming pearls.
Amid the Dark Ages, knights wore pearls in combat zone, trusting they had the enchantment to shield them from evil and harm. Amid the Renaissance, pearls were so exceedingly respected that a few European nations passed laws precluding anybody outside royalty and nobility ability from wearing them. What's more, amid European development in the New World, revelation of pearls in Central American waters implied that pearls, similar to gold, added to the abundance of Europe. In the mid 1900s, the coming of refined pearls conveyed costs down to standard levels.
From Queen Elizabeth I to our present day Queen Elizabeth II, the convention of wearing pearls on the wedding day has proceeded. Toward the start of the twentieth century, pearls were as much a matrimonial jewel in the United States as precious stones are today.
Today, the convention of presenting pearls to the lady proceeds. Regularly the father of the spouse or the man of the hour gives the endowment of pearls. Numerous spouses give their bridesmaids pearl pieces of jewellery, arm ornaments or hoops as well. When it comes to pearls and wedding we sure have a solid group of favourites.
Brooch bouquet
We simply love the brooch bouquet! You can totally customise your bouquet to your tastes and it will look absolutely amazing with added pearls of all sizes to match the colour scheme of your wedding. You can make your bouquet yourself or commission someone to make it for you. What's great is that you can add your own family heirlooms in the form of treasured old brooches, earrings and necklaces etc. or buy them all new or have a mixture of both!
Wedding hair accessories
What looks more beautiful and feminine than a stunning headpiece embellished in pearls? You re spoilt for choice when it comes to pearls for your hair. From subtle single gem stones to fancy fascinators pearls have a way of making you look classy and ultra feminine.
Pearl Wedding Cake
What screams love, purity and elegance more than a pearl encrusted wedding cake! We can't get enough of this luxurious wedding cake idea! A beautiful wedding cake is probably the most recognised statement feature of any wedding next to, of course, the wedding dress – but not all cakes are created equal, and if you're really planning to go all out on your special day then you're going to need a special cake to match. How do you take an already glorious wedding cake and make it even more fabulous? Pearls! Yep, even edible items can benefit from the sumptuous glow of a gorgeous pearl, and by adorning your cake with them you'll be guaranteed to take every ones breath away. If you only get one wedding cake, make sure it's got pearls on it.


These are just a few examples of how you can use pearls to make your wedding day glow with a little more finesse and beauty – they're unbelievably versatile and can be used to beautify just about anything you like, from cakes and flowers to glasses and shoes. They're just about the most iconic natural embodiment of beauty money can buy, and at the end of the day, you DESERVE it! Use them to your hearts content to make the most unforgettable day of your life even more stunning and create memories that will last forever, and photographs that will be cherished through generations.
(Visited 175 times, 1 visits today)