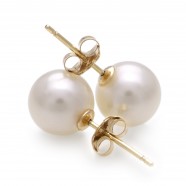 Pearl earrings have just the perfect dash of sparkle and shine. White pearl earrings are the classic pieces of jewelry every woman must have! They are a timeless staple and are perfect for every occasion to add class and elegance.
Pearl earrings, as essential items of jewelry, have historical roots that trace back to the beginnings of the ancient Roman Empire. Pearls and pearl earrings were ultimate symbols of wealth, status and social standing. Cleopatra herself was rumored to have won Marc Antony's heart and mind when she crushed a large pearl earring, dissolved it in wine, then drank the pearl.
Later, during times of war, a Roman general was rumored to have financed an entire military campaign by selling just one pearl earring from his mother's set of pearl earrings.
Pearl earrings are today are available in a wonderful variety of types and colors as well. As a result, Tahitian pearl earrings, black pearl earrings and pink pearl earrings are some of the varieties available for purchase today. A Tahitian pearl earring has a deep dark luster. The rich
greens and blues of the ocean sparkle, dart and dance across the surface the pearls in a pair of Tahitian pearl earrings. As a result of their significant size and magnificent luster, Tahitian pearl earrings are some of the most sought after in the world.
Next are pink pearl earrings. Pink has become one of the most popular colors. As a result, pink pearl earrings have gained popularity as well. Pink pearl earrings combine the delicate of femininity with classic pearls.
Black is the ultimate color of allure. Black pearl earrings have earned their place as an updated classic to the traditional set of white pearl earrings. Bold black pearl earrings are subtle and demure while still radiating an air of mystery. Black pearl earrings are perfect at work and at play.
A single pearl earring is also popular for just a bit of fun! Whether wearing a single pearl earring or in a pair, timeless, elegant and classic pearl earrings are lovely on their own or great as a complement to a matching necklace and bracelet.
(Visited 95 times, 1 visits today)