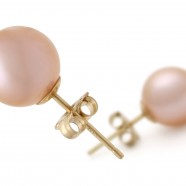 Pearl jewelry is the timeless and elegant classic essential of every jewelry collection. Pearl jewelry is simply the most elegant adornment to finish off every outfit for every occasion. From the power lunch, to the casual brunch and the formal dinner, classic white and bold black pearl jewelry is perfect to add a touch of elegance.
With the success of a wider variety of cultured pearl jewelry, there is a perfect pearl for everyone. The range of pearl jewelry includes earrings, necklaces, bracelets, pendants and even accessories for men.
Pearl jewelry start from small seed pearls up to an average of 13mm. There are many lovely shapes to choose from as well, starting with a traditional round, to drops and baroque. With all these wonderful choices, pearl jewelry is timeless and elegant as well as hip and modern. Another type of pearl is gaining popularity today as well – black pearl jewelry. Ancient civilizations believed that the black pearls captured the colors of the rainbow after a storm. As a result, black pearls are symbol of hope and renewal. Today, black pearl jewelry adds an air of enchantment and mystery to traditional white pearl jewelry.
In past and existing traditions, pearl jewelry is often passed down from generation to generation. From Mothers to their daughters, family pearl jewelry is given to young girls as they reach milestones to adulthood. Sweet 16, debuts, graduations, engagements and weddings are all perfect occasions to give a young girl pearl jewelry.
This can also be the reason why pearl jewelry is the choice most brides prefer for their own weddings. A set of white bridal pearl jewelry is classic and elegant. With more varieties available, even the most modern and ultra-hip bride can have the perfect set of bridal pearl jewelry for her special day.
Whether worn as bridal pearl jewelry, with the power suit in the office or to dress up a twinset, pearl jewelry is just the right finishing touch.
(Visited 80 times, 1 visits today)