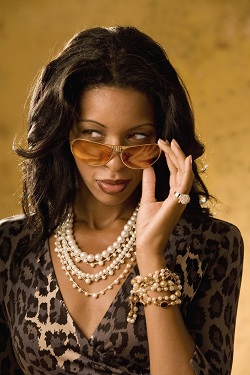 We have talked about wearing pearl necklaces before, but we focused on casual outfits and pairing pearl necklaces with specific types of dresses, among others. Today we will take a look at the etiquette of wearing a pearl necklace in various everyday life contexts, including, of course, formal events, office days, date night and business meetings. Wearing a classic pearl necklace is a pride and a privilege for many women of all ages. Designers together with fashion experts cannot emphasize enough the fact that wearing pearls in this day and age has nothing to do with you looking like your grandma. On the contrary, your grandma would be proud, as pearls are indeed some of the most precious weapons in a woman's arsenal of beauty and seduction.
Wearing a pearl necklace in a classy design can accompany any type of outfit – and it has to accompany certain outfits too. A mix of demure sophistication and glamorous modernity, a designer white Freshwater pearl necklace can look fabulous and modern if you pair it correctly with your clothes and other accessories. The beauty of pearl necklaces is that they can be worn every single day giving you a different look and attitude every single time. Whether you are into more classy combinations or modern-chic ones, it is indeed your best friend. Let's take a look together at some tips, tricks, and rules of wearing a pearl necklace and rock every given occasion!
1. Know Your Pearls
This goes without saying, but before fully embracing the miraculous sophistication of pearls, you should know them and learn everything you can about them. First and foremost, you need to play around with their color and hue, as pearls come in white, gray, pink, lavender, black and everything in between. The second thing you need to know is how to match pearls to the color of your skin, eyes, and hair. If you master these little tricks, you can further delve into choosing the best pearls for different outfits.
2. The Etiquette of Wearing a Pearl Necklace
3. Extra Tips to Consider
If you prefer to wear pearls more on glamorous, elegant events and occasions, you should be aware that long pearl necklaces must be chosen in accordance with your body type. If you are busty, a 30-inch long pearl necklace may not flatter you at all. Longer pieces, above 36 inches long are the preferred choice as they make your body look longer and slimmer. Also, long necklaces can be worn with a loose knot or wrapped around your neck a few times to add more sophistication to your overall look.
Massive, statement pieces go extremely well with strapless dresses, off-shoulder ones, spaghetti strapped dresses and crew neck blouses or dresses as long as the gown's fabric is a solid one and doesn't present patterns or other embellishments.
Wearing a pearl necklace is possible for any given occasion. Everything you need to worry about is choosing the right one for you depending on your skin tone and hair color, body type and your favorite occasions to wear it.
(Visited 1,131 times, 1 visits today)