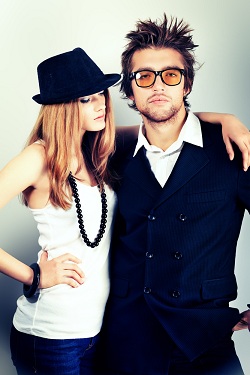 Some people think that pearls should be reserved for cocktail parties, weddings, black-tie events and charity balls. Essentially, they say, you should keep your pearls for formal, serious and sophisticated events. But modern women of today don't want to look like their grandmothers, no matter how elegant their attire is. And if you take a look at recent fashion shows, you will soon realize that pearls make the best of friends with jeans, tank-tops, ballet flat shoes and generally casual outfits. The pearl necklace, probably the most versatile and adaptable piece of pearl jewelry, is the highlight of a casual-pearl outfit combo – it can be worn in all contexts and environments without clashing with the clothes or other jewelry you favor – if you style it correctly.
Looking in retrospective, pearls came a long way: from precious gems dedicated only to royalty and aristocracy, today they are one of the most praised possession of women of all ages and walks of life. And among all possible jewelry types, the pearl necklace still stands as an icon of high taste, demure sophistication, style, and feminine grace. Today we will take a look at some tips and recommendations on how to wear your pearl necklace with casual outfits and be the prom queen everywhere you go.
General Rules of Wearing a Pearl Necklace with Casual Outfits
A pearl necklace is adaptable and fashionable no matter its type or design, but it sometimes can overwhelm an outfit if you don't keep your jewelry choices low-key. A dressed-down pearl necklace can make you look young, full of life, flirty and hip, complementing your casual night outs, picnic outfits, errand-running days, late night dates or casual get-togethers with friends. However, to create the perfect attire, let's take a look at some general rules of pairing a pearl necklace with your clothes.
A Freshwater white pearl necklace is your safest best when it comes to casual outfits – it pulls together the attire making you look composed, yet whimsical.
If you are truly open minded about pearls and want to try new things and new styles, specialists recommend you wear a pink Freshwater illusion pearl necklace – it is fun, exciting, new, young at heart and sophisticated at the same time without being overwhelming.
A choker pearl necklace works incredibly well with almost all types of necklines. In formal outfits, it is used together with strapless and spaghetti striped dresses, off-shoulder gowns, and deep plunging In informal, casual outfits, chokers also work great with sweetheart necklines, V-necks, and boat necks.
A princess necklace works with both high or low necklines, being the most preferred pearl necklace type to choose in casual
An opera or rope pearl necklace play on the glamorous side of things, being the weapon of choice when it comes to formal and highly sophisticated events. However, when paired with casual outfits, these long necklaces add a touch of playful, flirty fun to the attire. If you double it over you will look effortlessly elegant. If you tie it in a knot at the end, you will achieve an aura of old Hollywood Golden Age glam that highlights your natural beauty.
EXTRA TIP: When you pick your favorite pearl necklace, remember to choose the pearls' colors and hues that best complement your skin tone, hair, and eye color.
How to Mix a Pearl Necklace with Casual Outfits
When we think about casual-chic contemporary outfits, we usually think about jeans, tank-tops, t-shirts, summer dresses, flat shoes and sporty cardigans or even sweaters. Let's take a look at some tips and suggestions on how to mix your pearl necklace with such clothes for a spectacular look.
Skinny jeans and shirt/t-shirt: mix a pair of skinny jeans, a casual button shirt or a crew-neck t-shirt, flat shoes and a white collar pearl necklace to add a dash of refinement.
The same jeans-flats-shirt mix can also be dramatically styled up with a double-strand pearl necklace falling mid decollete and drawing attention without overwhelming the attire. The combination is dressed-up enough to make you look elegant, but the jeans make it casual enough to fit a coffee date, a casual party or a trip to the mall.
If you like pastel clothing, you can wear shades of pearls that match one hue present in your general outfit. However, darker clothing also works well with colored pearl necklaces in lavender, pink or golden tones without clashing. When it comes to contrasts, your pearl necklace should take center stage.
A white pearl necklace is generally preferred to style up all casual outfits, but a multicolor pearl necklace is a statement in and out of itself. Fun, flirty and whimsical, such a necklace makes the perfect partner of solid color darker jeans and tank tops, adding the exact amount of glam your outfit needs to look stylish and not overdressed.
As a general rule of wearing pearls with jeans and casual skirts or shirts, is to never wear more than one piece of pearl jewelry at a time. If you go for a pearl necklace, let it shine brightly by itself, without adding pearl earrings or bracelets to the combination. A small pair of metal studs and a chain bracelet should be enough.
For a bolder, flashier look, you can layer multiple strands of pearl necklaces of various lengths – but make sure you don't overdress and turn the outfit into a glamorous one. Such a combination works best with a solid-color top. Keep your jeans, flat shoes/boots, jacket and casual shirt in check.
Colored, textured and patterned casual outfits call for simpler pearl necklaces in white to tone down the flashy look. On the other hand, a black Japanese Akoya pearl necklace in sterling silver represents the exact necessary amount of glam and sophistication a colored outfit needs to remain casual, yet elegant.
Casual outfits are the perfect canvas to paint on with pearls and your pearl necklace. No matter its length or color, it can help you achieve a contemporary, sophisticated look with no effort. All you need to remember is to match hues and nuances correctly and pair the necklace with other accessories to look refined and stylish but not tacky or messy. So, get that pearl necklace out of the jewelry box and wear it proudly to match your playful, seductive and joyful spirit!
(Visited 232 times, 1 visits today)