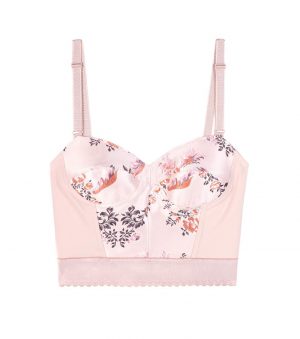 Summer is just around the corner, so this gives us a perfect occasion to talk about summer fashion trends that you should include this year in your wardrobe. If you're ready to freshen up your closet, you should know that many of  2017's hottest trends are continuing on from last year, and those that are changing things up should only require few touch ups to be on-point.  So enter into this summer with these trend tips in mind, since all of them are ultra feminine. Plus, they have a strong potential to last longer than the summer season.
First of all, we should mention that this summer fashion trends are very accessible, 80's style inspired, and, what we love about them is that they can be combined with pearls. Apart from the pearl fashion trend which is so in right now and which was covered by our last three articles, there are others that will get your attention in a second. The fact that they all give us the possibility to wear pearls as accessories is the most brilliant aspect about them (yes, we are being subjective).  So, if you haven't seen the runways, here are the our top fashion trends for this summer.
1. Bra Tops
Cropped tops are being  ambushed this season by the bra tops, which are in fact a variation of the same style. Cotton bra tops, satin crop top bustiers, lace and crepe bustier tops – we have a wide variety when it comes to their shape and fabric. Some of our selections illustrate very well multiple summer fashion trends: the flower print, the lace, the bright raw green. One of the best and easiest ways to style the trend is with a hight-waisted pair of pants or a long skirt. Wondering how to wear pearls with a bra top? Well, we would not recommend adding a pearl necklace because the beauty of the bra top is that it puts an accent on your cleavage, so we suggest the Freshwater Cultured Pearl Earring Pair in Amy White,  discrete and refined. They go well especially with satin or lace bra tops.
2.  The Cold Shoulder Trend
While off-the-shoulder tops and dresses may still be trending, this summer brings a new and fresh upgrade: a single cold shoulder. The asymmetrical neckline and the ruffle details give these stunning tops a distinct look. This summer trend will help you achieve a very sophisticated look! And with this Freshwater Cultured Pearl Earring Pair in Colleen White you are all set!
3. Floral Prints
It's true that the floral print is not a novelty, but now you can find it basically everywhere: on jeans as embroideries, on tops, on dresses, on shoes. Take a look at these items, because this summer fashion trend is stronger and bolder! This summer you are encouraged to wear head-to-toe retro-inspired floral prints (remember the '70 interiors?) . Emphasize your femininity with this Pearl Bracelet in Lavender or in Pink. You'll be as enticing to others as every blossomed flower is to the butterflies.
4. Bright colors: YELLOW, PINK, GREEN
Yellow is making a big and bold entrance, pink is going nowhere fast, and green…well we all know that it was announced the color of 2017. So be ready to spice up your wardrobe with this summer's trending colors. When in doubt, go with white pearls. They will do this bracelet will do the trick:  Pearl Bracelet in Single White!
5. Statement Stripes
Bright colors weren't enough? Add some stripes to the mix too! From dresses to swimsuits and shorts, colorful stripes come in all shapes and sizes this season. Stripes can create a casual or elegant look, depends how you want to wear them. In case you want to add some pearls (yes, you are allowed to mix round shapes with stripes), this Pearl Necklace in Bliss White is an excellent choice!
To conclude, this summer you're bursting with blooms, you're wearing a cold shoulder and you're making a statement with stripes or bright and vibrant colors. These were the top five summer trends that caught our eyes (of course there are many others) and we encourage you to make room for them into your wardrobe!
Image source: 1, 2, 3, 4, 5, 6, 7, 8, 9, 10, 11, 12, 13, 14, 15, 16, 17, 18, 19, 20, 21, 22, 23, 24, 25, 26, 27.
(Visited 131 times, 1 visits today)