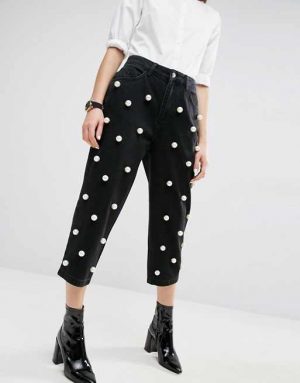 Hello, pearl lovers! If you haven't had enough of pearls, today we will show you some amazing pearl outfits from Instagram! Since the previous two articles covered pearl fashion trends in terms of clothing items and pearl embellished accessories from designers and affordable brands, this blog post will actually show you some of our favorite pearl items incorporate into real and ready to wear outfits.
So we looked into our followers accounts (to be read wardrobes) and into the accounts we were following and found out that they are real pearl lovers! Each and every one of them has a truly unique fashion style, therefore, we are certain their outfits with pearls will delight your eyes. In case you were looking for some inspiration, keep reading, because we will show you some quick ways and ideas to wear several pearl outfits.
1. Pearls on Jeans: an Addictive Fashion Trend
The pearl jeans trend seems to be the most popular one. It was immediately picked up by so many of us, that we have endless pearl outfits as a source of inspiration. You instantly become addicted to them because they are so cool and hip, plus, they can be worn in so many ways.
Just take a look at Marika. She is perfectly illustrating their versatility. She is wearing the pearl jeans with a black lace top, a t-shirt, and a velvet top. As a result, she got three different pearl outfits. Ultra feminine, edgy, adorable. Oh, and did you notice the cute flats?
Wow! This pearl outfit is a stylish reinvented Barbie look which gives you multiple ways of wearing it, while keeping the same stylistic zone. Once again, pearl jeans show us that they can be paired with any kind of top, no matter the color or fabric. And if the pearls have a big size,  dare to flaunt them!
Slim heels, think heels, no heels…everything goes!
Here, Sofia created a casual pearl outfit, relaxed, yet so elegant. Ankle boots go very well with pearl embellished jeans. This time pearls have a smaller size, but the jeans still look great, especially next to black.
Jenny created amazing pearl outfit that reflects how stylish these jeans. The dapper shoes and the black blazer blend so well!
This is such a pretty outfit! Robin makes it clear (if it wasn't till now) that you don't have to compromise. You will still look precious, whether you wear pearl jeans with sport or elegant shoes.
2. Pearl Outfits with Pearl Embellished Shoes
This girl must be a certified pearl lover. She owns an impressive collection of encrusted shoes! For example, this pair with lovely pearl decorated bows must be extremely comfortable. And they are so eye-catchy!
If you remember, we presented this pair of Gucci shoes on a previous article.  They seem super comfy with those pearl embellished heels. Wear them with jeans, as in this photo, to have a relaxed look.
This pair of pearl encrusted sneakers is so cool! By adding the tutu skirt she instantly obtained a trendy pearl outfit which, we assume, brought her a lot of compliments.
Sophistication and elegance…These are the main features of this pair of pearl encrusted loafers. Wear them like Marika with loose pants and you'll get a bohemian-chic vibe.
Or…with a dress to impress!
These faux-pearl embellished flats are perfect for this spring! The mix of colors and decorations is absolutely lovely.
This pair of pearl decorated shoes were also present on the article about pearl fashion trends. As you can see, they go excellent with dark grey/black jeans. This is a really chic pearl outfit and we just love it!
You can never cross the street with these shoes without being noticed. The pearl detail on the back creates a mesmerizing look.
Here you have a very modern, young, vibrating outfit that seems easy to achieve when you have the right pieces. The pearl decorated shoes bring a touch of glam.
The next two photos illustrate some casual stylish outfits perfect for many occasions. You can let these beautiful pearl decorated shoes walk you to the office or to that lunch date with your friend.
3. Pearl Tops, Jackets & Dresses
Isn't she adorable? Samantha is the perfect example of simplicity and elegance in the same outfit. The pearl details look so nice!
Stunning, right? This pearl top creates a dazzling effect and this is just another example that black and white represent a timeless combination.
The same goes for this outfit. The pearl embellished bodysuit creates a glam look without having to be worn with elegant pants. And to be honest, that would have been predictable, so jeans are ideal in this case. And yes, we agree: mind blowing!
As far as we are concerned, the pearl buttons add extra elegance and luminescence to this jacket. The whole look is absolutely enchanting!
Claire is a real pearl lover for sure. Just take a look at these two exquisite dresses. She just showed us that you can never have too much pearls (on you)!
It seems legit to add this outfit into the avant-garde zone. We love the back pearl detail because it gives a dazzling effect.
Now this is the type of coat which will make heads turn over and over again! The blush pink goes very well with black and we simply adore the pearl detail!
This pearl embellished denim jacket will steal everyone's attention on a second! A silky textured blouse or scarf make the pearls shine even more.
This pearl embellished blazer is absolutely gorgeous!  Harriet created an all black diva looking outfit and it suits her very well.
"Good morning, everyone!" White shirts can be boring sometimes, but this one is so refreshing! This white shirt with pearl buttons is an excellent choice for day time and you can basically pair it with anything.
This pearl outfit shows us that you don't have to go somewhere to look and feel fabulous. You can just stay in, wear pearl sweats and pamper yourself.
The pearl details on this shirt look so delicate! You can wear it with a white blazer, like Natalie did, to obtain a flawless look.
Who said vintage and modern can't coexist in the same sentence? Just take a look at Janice! She looks wonderful! This blue vest with pearl buttons is the center piece of this outfit and we just love how the light color pops when is mixed with black.
Looking for a cool option? This Gucci pearl decorated T-shirt can be worn with jeans, skirts or shorts. No restrictions here!
Karen has a playful style and she manages to integrate these pearl decorated tops within the same color zone. Tones of pink and grey make pearls look shiny and charming.
We just adore this pearl denim jacket! It is so versatile and you can obtain so many trendy looks with it. Rox did an awesome job by wearing it with tight skinny black jeans and high heels. The result? A daring and bold look!
4. Pearl Accents On Bags
Here's a nice way of wearing  a bag with pearl accents. The outfit is fresh, casual, and perfect for a Sunday walk.  With this light green bag, Adriana created a very relaxed and charming look.
This shell shaped pearl embellished bag is absolutely beautiful and it is perfectly worn with a long black dress. Black will always make white pearls pop, therefore, Ruxandra successfully achieved this effect.
5. Pearl Embellished Accessories
You just have to admit that these belts look so feminine and they help you create some lovely pearl outfits. Here's a great styling idea: mark your waist and accentuate the color of the skirt with a golden chained belt with a beautiful pearl detail.
Or, don't be afraid to mix it with some modern patterns and a cropped top. Jenny did it and she looks stunning (and what a fantastic silhouette, right?!).
It can even be worn with sport shoes and a T-shirt and still gives you a classy look.
This pearl decorated hat is truly gorgeous! We have a feeling that it could instantly activate the holiday mood.
And what a cute pearl headband! This is such a practical way to add extra femininity to  an outfit. Plus, it gives Karen a "princessy" look.
Well, we hope you enjoyed these pearl outfits we collected from Instagram and we would like to thank once again to all of you who accepted to be presented as a source of inspiration for our pearl lovers!
In the end, your creativity matters! Don't be afraid to explore different styles because this is how you can create your own pearl inspired outfit. Also, if you liked the presented pearl outfits, make sure to follow these wonderful girls who were featured in this post! Also, feel free to comment and mention which one is your favorite.
P.S. – Here is our Instagram account: @pearlsonlyofficial. Follow us and feel free to contact us is you want to show us your pearl outfits!
(Visited 234 times, 1 visits today)