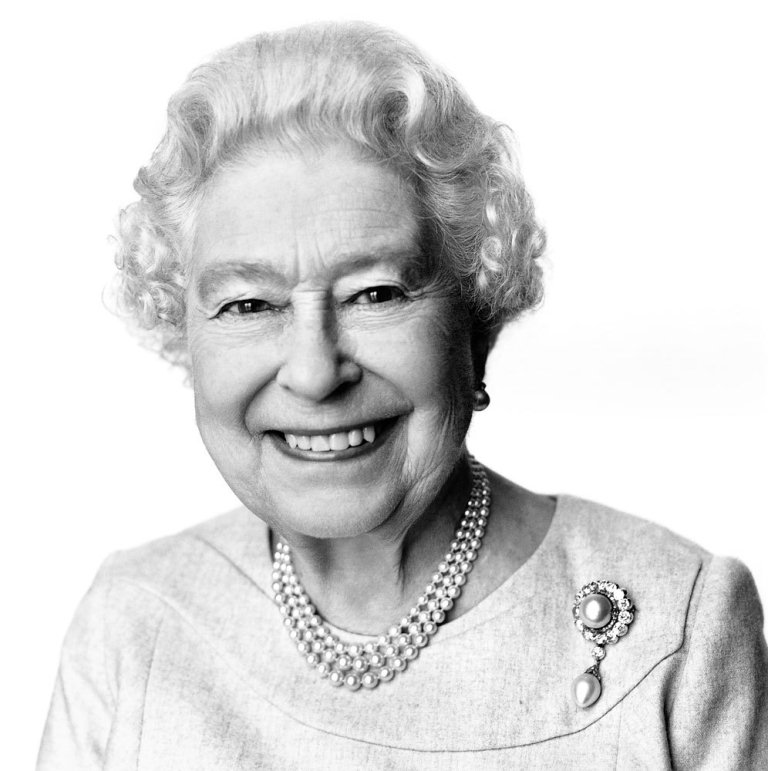 Happy Birthday to Queen Elizabeth II!
The British monarch, Queen Elizabeth II (Elizabeth Alexandra Mary), born April 21, 1926 celebrated her 88th birthday on Monday and she looks great.
Although the Queen's biggest public celebration is in June, when there is better weather, in honor of the Queen's birthday a classy black-and-white portrait was taken at the Buckingham Palace in March by prominent British photographer, David Bailey (76).
The image featuring the queen looked regal as the Queen wore a layer of pearls, a fancy pearl pendant, pearl earrings and beautifully curled hair which was simply chic. The photo was snapped to share her birthday and also to promote tourism to Britain.
David Bailey is an honored photographer who has an extensive resume and royal awards under his belt. He has numerous photographers published in British Vogue and other highly noted magazines, so it was only right for him to do the shoot for the royal highness.
"She has very kind eyes with a mischievous glint," Bailey said. "I've always liked strong women, and she is a very strong woman."
In honor of her birthday we want to share with you some interesting facts. Did you know?
At present, Elizabeth is Queen of Jamaica, Barbados, the Bahamas, Grenada, Papua New Guinea, the Solomon Islands, Tuvalu, Saint Lucia, Saint Vincent and the Grenadines, Belize, Antigua and Barbuda, and Saint Kitts and Nevis. – Wikipedia 
Her reign of 62 years is currently the second longest for a British monarch; only Queen Victoria, her great-great grandmother, has reigned longer, at over 63 years. – Wikipedia 

Queen Elizabeth can be found wearing pearls quite often.
What do you think of the royal portrait? Do you love it?
Photo Credit: David Bailey AFP/Getty Images/Buckingham Palace
(Visited 201 times, 1 visits today)