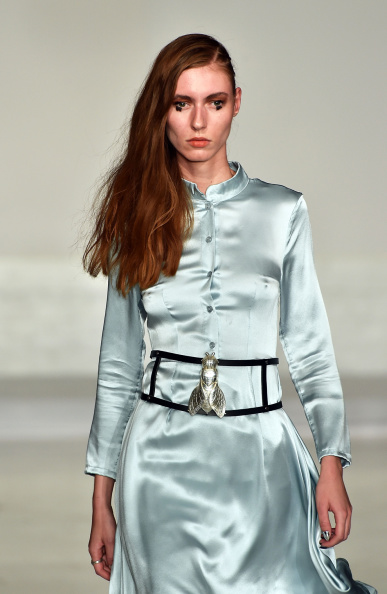 Retro fashion meets science at the Nina Athanasiou S/S15 Presentation that was held Sunday, September 7th at The Designer's Loft in New York City during Fashion Week.
While many may have eagerly anticipated the fashion film, Akuma that starred famous model Shaun Ross, it was the fashion that we were eager to see walk down the runway.
There was a lot of leather—something that we loved. Leathers in various colors from coral red shorts to sandy brown leather skirts, leather was abundant and easily Nina Athanasiou was on trend for the upcoming spring.
Can we talk about what bugged us? We actually found the fly and insects accessories pretty, well "fly." Nina incorporated in her collection many copper, porcelain and silver bug accessories that were adorned as belts, barrettes, and pendants adding to the eerie and unique style of the intriguing fashion.
While many may call the anatomical illustration on the shirts disturbing, we found some of the shirts down right intriguing as it gave us the beauty of what makes us human. The heart, the ribs, the mouth, the brain, all key elements that make us think, feel, taste and enjoy what we love about being alive.
Here are a few of our favorites that we know will look great with pearls:
This pale blue shirt dress flowed nicely and paired well with the fly adorned black leather cage belt, which took the look from ordinary to extraordinary.
This sandy leather skirt and sheer top is so on trend for the upcoming season. Nature at its finest!
This leather vest dress has all the makings of fun mixed with sophisticated.
The show stopper of the evening was this pleated beige and baby blue leather shift dress. The details of the pleats are amazing and this dress is definitely the start of a fun trend.
Open wide and say, "amazing!" This white pinafore dress with the open mouth speaks volumes.
So, the trend report thanks to the styles of Nina Athanasiou are:
• True To Life Graphics
• Pale Colors And Satiny Fabrics
• Leather
• Insects
• Belts
Fashion Forecast: Expect to see plenty of soft leather in amazing natural colors. There will be more 3D-like images to give the eyes a thrill and beige will be the new black.
What do you think of the art that is Nina Athansiou? Does her fashion capture your interest?
COVERAGE PROVIDED BY: MS. ELITOU (@tweetyelitou)
Photos Provided by: Getty Images
(Visited 75 times, 1 visits today)