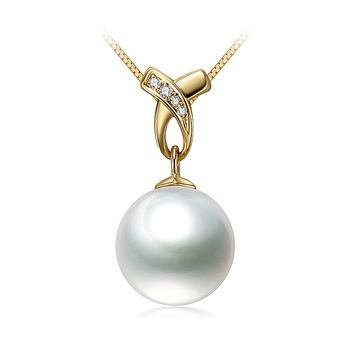 Pearls come in a variety of different shapes and sizes.  But the ones that seem to hold a special place in many women's hearts are South Sea Pearls.  By why is it that these pearls above all others seem so special? Find out by reading this post!
South Sea Pearls aren't only rare but also have become famed for them being so much larger than other pearls.  They also have a magnificent luster that few other pearls can replicate or compete with.
Climate change along with chemical spills and natural disasters have also played their part, as these all can lead to the destruction of such pearls in the ocean.
South Sea Pearls Are From Where?
Most pearls you see being used in say a South Sea Pearls Necklace or South Sea Pearls Earrings will have come from Northern Australia, Polynesia or South East Asia.  The main countries in South East Asia where South Sea pearls are from Indonesia and the Philippines.
However, the best South Sea pearls are those from Australia.  They are said to be unrivaled in their rarity, nacre thickness, size, natural luster, and quality.   This helps to increase the South Sea pearl value.
It is all these different features that help to make the pearls from Northern Australia so unique and so highly prized.  In fact, today it is the seas of Northern Australia that now produce most of these gemstones. They are then used in creating some beautiful pieces of South Sea Pearl jewelry you can buy today.
A Little About South Sea Pearls History
It was back in the 1880s that divers first discovered the oyster in which South Sea pearls are formed off the coast of Australia.  The large size of these oysters that soon attracted the attention of traders local to the area.  It wasn't then long before pearling schooners appeared in the area where the oysters had been found.  On board were divers from Sri Lanka who harvested the oysters, not for their pearls but for their shells.
As the pearl industry in Australia boomed, so a small town soon became the center for pearling.  This town was called Broome and South Sea Pearls were in fact known as "Broome Pearls".   It only took 3 years for Australia to supply 75% of all supplies of the mother-of-pearl that were then used to make buttons for shirts.
But within 50 years overharvesting of these mollusks caused the oyster beds to become depleted.  This then led to the Australian government being forced to regulate the harvesting of these oysters.  It was this that helped to prevent them from becoming extinct.
Although production of cultured South Sea pearls started back in the 1890s, the Australian government was afraid that production of such would threaten the natural pearl market.  So the prohibited the production of such pearls and this remained in place until 1949.   Then in 1956, the first cultured pearl farm was set up to commercial produce these beautiful pearls and these days Australia produces around 60% of all the world's cultured South Sea pearls.  Then in the 1970s, Japanese companies set up farms in Indonesia to cultivate these pearls along with companies in the Philippines.
But What Is It That Makes South Sea Pearls So Special?
There are several different factors that help to make these pearls so special.
Colour
There are three different oysters from which we can cultivate South Sea pearls. In Australia and Indonesia, they cultivate their pearls in the oyster known as Pinctada Maxima.  Whereas in Polynesia the South Sea pearls grow in the oyster known as the Pinctada Margaritifera.
The oysters, which produce South Sea pearls in Australia, are known more as the white-lipped oyster.  The ones from Indonesia are known as the golden-lipped oyster.  As for the mollusk, which produces the pearls from Polynesia, is known as the black-lipped oyster.
Each of these oysters can produce pearls and today the South Sea pearls that these mollusks produce come in five different hues.
White Silver

White Rose

Blue White

Light Cream

Champagne (Medium Cream)
As the farming of pearls isn't an exact science, it is very difficult for pearl farmers to predict what color, size or shapes the pearls produced by these oysters will be.   It is because of this that color does a big effect on the price of South Sea pearls.   If, for example, white rose pearls were popular, they had harvested only a few this would cause them becoming the most expensive to buy.
This is the main reason why many South Sea pearls continue to be the most expensive of all pearls you can buy today.
But with such a diverse range of colors to select from, you will find some South Sea pearl earrings or necklaces that suit your individual style and taste.  No longer are you expected to wear only perfectly round white pearls.  In fact, today you can wear any color, shape or size pearls you like.
Size
The actual sizes of South Sea pearls can vary.  Some may only measure 9mm in diameters, while others can measure upwards of 20mm in diameter.   Often what you will see when it comes to South Sea pearls necklace designs is that they graduate the pearls with larger pearls placed at the front and smaller ones towards the end.
The reason why these pearls grow so large compared to others is because of four main factors.
The large size of the oyster in which they cultivate the pearls
The size of the lead implanted within the oyster
The time that the farmers allow the pearls to grow, they often leave them to grow for between 2 and 4 years before they harvest them
These oysters are kept in their natural environment as they don't thrive outside of it
Shape
Just like all other pearls, you can buy today, South Sea pearls come in a range of different shapes.   They can vary from round to semi-round, button drop, baroque, or pear-shaped.  As you will expect, round or semi-round South Sea pearls will command much higher prices, as they are far rarer.
In fact, when you buy say a South Sea Pearl pendant or necklace you will need to look at it closely to identify that the pearls used in the design aren't round.   But even though they may not be round, these pearls still will make a beautiful addition to your jewelry collection.
However, these aren't the kind of pearls you would want to wear every day, but should in fact only be wearing them for special occasions.  These are the kinds of pearls that look stunning when teamed with more formal attire such as a beautiful simple black little dress or a long gown to a formal dinner.
What Makes South Sea Pearls So Unique?
Like all pearls, these have some very distinct characteristics that are unique to these gems and which help to make them so unique.
The nacre that coats these pearls and which helps to give them their beautiful soft satiny luster ranges from between 2 and 6 mm in thickness.  On most other pearls, the nacre only is between 0.35 and 0.7 mm thick.
Along with the nacre, it is the luster of these pearls that aren't like any other you find on other pearls you can buy today.   This is because it is made up of large platelets of aragonite that are deposited quickly on to the acre as the pearls are forming.
Another factor that helps with the creation of these beautiful South Sea pearls is the quality of the water in which the oysters live.  Not only are the South Sea waters clean but also provide the oysters with ample amounts of their favorite food, namely plankton.
These two factors help the oysters to produce the nacre that covers the pearls a lot faster.  This helps them to create some beautiful gemstones that look amazing when used to create a pair of beautiful South Sea pearls earrings.
As you will see above, there are plenty of reasons why South Sea pearls are so special.  But for many women, the reason they love these pearls so much is the beauty of their color and shine.
However, just because these pearls take a long time to cultivate it doesn't mean you have to go without owning say a beautiful white or golden South Sea pearls necklace.  These days there are plenty of places online where you can purchase such a piece of jewelry. Not only it suits your tastes but also meets your budget requirements.
Here at Pearlsonly.com, we have a wonderful collection of jewelry that includes beautiful South Sea pearls for you to choose from.  You are sure to find within our collection a South Sea pearls necklace or pair of earrings that will suit your particular tastes and budget.
(Visited 106 times, 1 visits today)