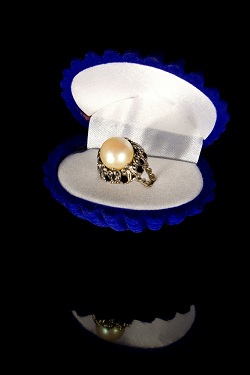 Pearls are a symbol of femininity and grace. For many years long and multi-layered strands of white pearls have been associated with the sophisticated elegance and opulence advocated by Coco Chanel. Other famous women have turned pearls into a personal trademark, being proud to wear these gorgeous little gems in any given occasion. Lately, brides all over the world went over the classic prejudice that pearls and wedding ceremonies meant bad luck. Now they are shining bright with their pearl pieces. But as we all know, pearls cannot be seen just through a black or white lens. We now have access to a myriad of unusually colored pearl jewelry.
One might argue that colored pearl jewelry is difficult to wear in comparison to white or black pearls – matching the colored gems with your skin tone or outfit needs knowledge and skill. But wearing unusually and unique colored pearl jewelry means more than knowing how to pick your attire. It means a deep understanding of pearls' beauty, refinement and power of seduction. Today we will take a look at some popular colored pearl jewelry to better understand why such pearls are synonym with elegance, refinement and impeccable tastes. After all, a woman should have "layers and layers of pearls" – meaning that you can introduce in your collection some of the next breathtaking wonders.
1. Golden Colored Pearl Jewelry
Golden pearls are some of the rarest, most luxurious South Sea pearls you will find. They are also some of the largest such gems. While they come together with relatively high price tags, golden pearls are imbued with their own mythology and mysticism. In ancient China, golden pearls were a symbol of wealth and were said to pass the same prosperity onto the wearer. This is why the Chinese dragons (known for their appetite for beauty and everything precious) were often depicted bearing golden pearls on their bodies.
If you are looking for a sophisticated golden pearl pendant or a golden pearl bracelet, you have to keep in mind that golden pearls also feature several undertones. The most impressive are Natural Yellow Gold, Green/Bronze, Rose, Orange, and Champagne.
STYLING: Given their regal, warm tone, you will find golden pearls mixed with yellow gold. They don't usually pair well with silver or white gold metals because they the two shades can clash against each other. Also, golden pearls can be mixed with diamonds or Zirconia for a high-end luxurious effect. This is why a golden pearl necklace is usually worn in formal contexts such as glamorous parties, black-tie type of events and formal business meetings.
2. Blue Colored Pearl Jewelry
According to some romantic views on pearls, the wearers of blue colored pearl jewelry are meant to find true love and keep it forever. Blue pearls are extremely rare and extremely valuable. You can find blue Akoya pearls (small in size – 7.5-9.5 mm) or silver blue South Sea pearls (large in size – 9-16 mm or larger). However, the most popular among them all are Tahitian blue pearls, with a medium size ranging between 8 and14 mm.
When we think about Tahitian pearls we usually associate them with black pearls. However, natural blue pearls can feature a handful of unusual and amazing hues and overtones: Aquamarine, Strong Blue, Violet or Rose. Tahitian pearls especially come in blue tones mixed with Green, Cerulean, Violet or Teal hues and overtones. The beauty of these pearls is also given by their shimmer that changes depending on how light touches their surface, changing their metallic hues and making any woman look like a true goddess bearing an ocean rainbow around her neck.
STYLING: More often than not you will find blue pearls incorporated into multicolor Tahitian pearl necklaces. They are bold, beautiful and truly unique. They can accompany a woman to the office in the morning and at a gala later in the evening without overwhelming the outfit. However, if you want to make the best out of their metallic shimmer and their rainbow-like feature it is best to wear them as single statement pieces and use your skin as the perfect backdrop for them to shine.
3. Peach Colored Pearl Jewelry
Peach colored pearls belong to the family of pink pearls, being cultivated in the Freshwater mussel. Pink and peach pearls make amazing pieces of colored pearl jewelry with the pearl sizes ranging in between 4 and 12 mm. Newer techniques allow producers to obtain some of the largest and most amazing Freshwater pink to peach pearls. You have to take a look at an "Edison" pearls multicolor necklace to understand its power of fascination.
Peach pearls also come with their own collection of unusual overtones such as Gold, Rose, Aquamarine and Green among others. But besides being noticed on size alone, peach pearls also make a statement because of their ever-changing shimmer when exposed in light. The sweet, soft pastels also create the illusion of a multi-faceted warm rainbow. Peach pearls speak of summer, joy and a love for life that is hardly matched by other types of colored pearl jewelry.
STYLING: It is probably unlikely to find a piece of pearl jewelry coming together only with peach pearls. However, you will fully enjoy a multicolor Freshwater pearl bracelet mixing peach, pink, lavender and white pearls for a glamorous, yet laid back effect. The blending of such hues and overtones is mellow and feminine. The added benefit is that such a wonderful piece can be worn in all occasions from morning to midnight. As metal pairings go, peach pearls are usually accompanied by yellow golden chains or clasps. The gold warms up the pink and peach overtones and their natural golden shimmer, intensifying their shine.
What Other Unusually Colored Pearl Jewelry is Out There?
What you should also know is that you can find other unusual colored pearl jewelry. Such nuances and overtones belong to the Tahitian family of dark colored pearls and it is more likely to find them incorporated into multicolor Tahitian pearl jewelry:
Chocolate pearls: red carpet stars, chocolate pearls come in a wide array of overtones ranging from Gold, Rose to Green/Bronze. The beauty of such pearls is that they feature a "Dark Chocolate" or a "Milk Chocolate" body enhanced by these overtones. They are usually paired with yellow gold to enhance the warmth effect.
Red pearls: while pearls are not bright red, there is a Tahitian pearl shade called "Cherry" that can really vamp up a colored pearl jewelry piece. The overtones can range from dark sienna red if the pearl's body is also red to silvery red in case the pearl's body is lighter in color. Sometimes you will also find green body pearls with reddish overtones – very rare and hard to find as standalone jewelry pieces.
Peacock pearls: as you can imagine, peacock pearls make you think about many shades of green and gold. In fact, peacock colored pearls are green Tahitian pearls that feature both a green and a bronze overtone. Considered some of the most precious Tahitian pearls on the market, peacock pearls are also incorporated into multicolor jewelry pieces. And speaking about green Tahitian gems, you should also know that such pearls can sport a light green overtone – thus being known as Pistachio Tahitian pearls.
What unusual colored pearl jewelry do you love the most? Do you follow the more traditional white pearls path or do you simply enjoy to stand out of the crowd and wear colored pearls?
(Visited 164 times, 1 visits today)