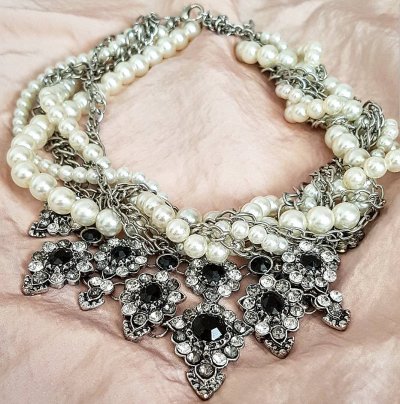 Pearl jewelry is meant to highlight our beauty, make us feel sexy, strong, and empowered. It is, at times, a sign of wealth, but most times we wear it simply because it's beautiful and we like it. If you love pearls but are looking for something a bit more modern and daring, we recommend the chunky pearl necklace. It can transform an outfit, and make you stand out in the crowd. It's contemporary and bold and it complements any occasion and style. If you need some inspiration on how to style this statement necklace, then you're in luck! In today's article we have 8 celebrities that have rocked the chunky pearl necklace game to serve as inspiration. Plus, we also prepared some tips that will help you rock the chunky pearl necklace, too!
8 Celebrities Wearing Chunky Pearl Necklaces
Celebrities have always been trendsetters and a source of inspiration for many of us since the times of Old Hollywood. They can decide if and when something is in style, and can bring popularity to even the weirdest trends. That said, when it comes to chunky pearl necklaces, there really don't need much advertising, but if you need a little inspiration, here are some celebrities who have been spotted wearing chunky pearl necklaces and looking out of this world cool.
Miley Cyrus
Miley Cyrus' style has changed time and time again. From Wrecking Ball's badass to Malibu's sweet girl, she's done it all. Here, she's wearing a faux chunky pearl necklace, with a simple, black gown, slicked back hair, with burgundy lips and a smoky eye. The piece is modern, ornamental, and even ostentatious, but it works so well with her style and attitude. If you want to pull this look off, we recommend making the necklace the centerpiece of the entire outfit. Let the pearls shine and they'll make you shine, in return!
Leigh Lezark
American DJ and model Leigh Lezark is a fashionista and a trendsetter. Her gorgeous chunky pearl necklace is the focal point of the entire outfit and it looks stunning. It's stylish and elegant with a touch of modern, especially when paired with a low-key makeup and hair. What makes this outfit truly stunning is her textured, hot pink long-sleeved mini dress. It's what brings the outfit into the 21st century and saves it from looking too classic and dated.
Rihanna
Speaking of trendsetters, Rihanna is truly a fashion icon and guru. Her over-the-top pearl necklace is reminiscent of Coco Chanel's pearl necklaces. Chanel's famous saying on pearls is what serves as inspiration for us at PearlsOnly: A woman needs ropes and ropes of pearls. And we couldn't agree more! Here, Rihanna is elegant, classic, but also original and contemporary. We particularly love the glossy red lip and the classy winged eye look.
You can easily create a similar look by wearing multiple strands of pearl necklaces. This 30 inches long pearl necklace is a great start to create your own chunky pearl necklace.
Miranda Kerr
This piece from Miranda Kerr is truly phenomenal. The supermodel donned this gorgeous chunky pearl necklace for a photo shoot for a French magazine. It is center stage, there is nothing, apart from the hat, to distract from its beauty, not even clothes. Now, we're not saying that with a necklace this chunky, you need to go topless, but you do need to achieve some balance so that everything falls into place. We would suggest a simple dress or even a turtleneck and jeans, to keep it fresh and current.
Sarah Jessica Parker
Sarah Jessica Parker is one of the most fashion-savvy people in Hollywood. And she loves pearls, black pearls in particular. Just take a look at two gorgeous necklaces that she's worn during recent events. In the first photo, she's wearing a black chunky pearl necklace that complements her dress and hair. The second one shows her with a stunning black pearl, chunky necklace paired with a cream, simple dress that seems to highlight the gorgeous necklace even more, giving her a classic vibe, with modern touches.
Here is how you can recreate her look.  Take this wonderful double strand black pearl necklace from our collection of freshwater pearls necklaces and pair it with a powdery pink dress.  Some loose curls, a nude lipstick, and there you have it! A fresh and elegant outfit to go out with your team of girlfriends.3
Sandra Bullock
Sandra Bullock's fashion choices have always fallen on the safe side, she's America's sweetheart, after all! But with this gorgeously messy chunky pearl necklaces, she took a risk and it paid off. The necklace is outrageous, intricate, and modern, and it works so well with her outfit. Notice how her hair, makeup and dress are quite low-key to give the necklace a place to shine and be the true protagonist that it needs to be. We think this style of necklace works best for special occasions and parties. You will surely turn heads wearing this chunky pearl necklace!
Michelle Obama
The former First Lady is one of the classiest and fashion-conscious women in politics. She's made it to the top of plenty of best-dressed list, she's not afraid to take fashion risks and she simply adores wearing pearls of all types and shapes. Here she is, in the photo below, wearing a modern colorful faux pearl necklace that simply brings an otherwise classic and simple outfit to life. If you plan on recreating this stunning look, you simply must add that smile, it's what makes everything work so well!
Katherine Heigl
This former Grey's Anatomy star is seen here wearing ropes and ropes of pearls and looking like a million dollars. This works so well here, because of the strapless dress she's wearing. Pearls on bare skin is the way to go, especially when it comes to chunky pearl necklaces. If you want to recreate this look, we recommend you follow's Heigl's example, and wear either a strapless gown, or a deep V shirt.
A similar pearl necklace is this cultured pearl necklace in Ella Edison Multicolor. It will really complement your skin complexion! The subtle glow is absolutely enchanting! With a full strand of 3mm spacers followed by large 14mm sized high quality pearls, you will clearly be noticed on size alone.  With the purples, pinks, creams, lavenders and more, this multicolored 20" strand takes fashion to new and dazzling heights.
 Cultured Pearl Necklace in Ella Edison Multicolor
5 Tips on How to Wear a Chunky Pearl Necklace
Some say that statement necklaces isn't for everybody, but we beg to differ. Long gone are the days when chunky necklaces only adorned the neck of old hippies and eclectic folks. Today, anyone can wear them, and if you follow a few tips that we have for you you can look stunning. Remember, these are just tips, not rules, because we believe that fashion rules only make things more complicated.
Make the Necklace the Focus of Your Outfit
With any type of chunky jewelry, especially pearl, the focus is immediately going to go directly to it. So, choose your chunky pearl necklace wisely, because it will be getting lots of attention. We recommend keeping the rest of your outfit simple, but this is just a suggestion, feel free to wear whatever you feel works best. Here is an article that shows you how easy you can create your own chunky pearl necklace using what you have in your collection.
Add a Splash of Color
Take notes from Leigh Lezark's chunky pearl necklace outfit and be bold. Pair your pearls with a colorful outfit and we're certain you will be the center of attention. We recommend you implement yellow and 2018's Pantone color of the year, Ultra Violet into your style, for a more modern feel.
Back to Business
Who said that business outfits need to be simple or dull? Introduce a chunky pearl necklace into your work attire and you're going to be surprised at the results. Your colleagues as well, we can guarantee that. Pair your chunky pearl necklace with a pantsuit and you're ready to go to the office. If a pantsuit is not for you, how about a midi skirt with a silk blouse and the statement necklace of your choice? Tie your hair in a low ponytail, add a nude lip and lots of lashes and you're all set!
Experiment!
Don't be afraid to experiment with your outfit and choice of jewelry and don't be afraid of what other people might say. Denim shirt and pearls? Why not?! Chunky sweater and chunky pearls? It works! Sundress and statement necklace? Even better! Take risks and be curious about fashion and always challenge what you know about fashion, because it's the only way to expand your style.
Have Fun!
No matter what you choose to wear, or how you choose to do it, you should have fun with it. Life's too short to follow silly rules on how to wear necklaces, or what not to wear with chunky necklaces. If you want to wear a chunky pearl necklace with a colorful, frilly dress and you're happy with your choice and you feel great in your own skin, then do it! Do whatever makes you feel happy, it's just fashion! It's meant to be enjoyed!
We truly hope our suggestions and tips have inspired you to decide on your choice of chunky jewelry. Remember, no matter what you choose, be it a chunky pearl necklace, a chunky pearl ring, or a triple strand pearl necklace, it's your attitude that matters the most. You need to wear the jewelry, not the other way around. So, be proud of your choice, wear it boldly and unapologetically and people will take notice. You will feel empowered, which is what matters the most. This is what jewelry is supposed to do, after all. Enhance your natural beauty, empower you, and make you feel good.
To conclude, there are so many wonderful, classy,  or extravagant ways to wear this type of pearl necklace. With this in mind, feel free to browse our website and choose the perfect piece of jewelry to complement your style!
(Visited 478 times, 1 visits today)