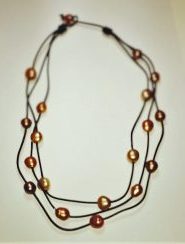 Key accessories can turn simple outfits into bold fashion statements. The leather pearl necklace is a key piece that any woman should have in her jewelry box for those days when she wants a fierce look. It is the perfect combination between elegant and daring, and it is brilliantly versatile. Let us tell you a bit about leather pearl necklaces so that you can visualize the immense potential of this charming accessory.
Types of Leather Pearl Necklaces
The jewelry market offers quite a few options for leather pearl necklaces. Each of them can be integrated into delightfully bold outfits and amazing adventurous looks. Take a look at the best leather and pearl necklace alternatives out there!
The Single Pearl and Leather Necklace
The single pearl on a leather necklace is a classic accessory that boasts a special type of elegance. It is best suited for casual to semi-formal outfits because it is elegant enough to be compatible with glamorous attire, yet bold enough to give the entire outfit a special kind of twist.
The Multi Pearl and Leather Necklace
A multi pearl necklace with a leather cord is quite the statement piece so that it will be the key item in your outfit. You can wear it with dresses, as well as semi-formal attire to create the best possible boho look. We strongly recommend necklaces with pearls of various sizes because these will catch anybody's eye.
The Multi Strand Leather Pearl Necklace
The multi-strand leather and pearl necklace is also a statement piece by definition, which will enrich any outfit you include it in. It is ideally suited for generous necklines, and it can be worn with blouses and dresses alike. Choose the color of the leather lining so that it is well coordinated with your attire and you will get a bold outfit every single time.
The Ideal Pearl Pendants for Leather Necklaces
All you need for your single pearl and leather necklace is a daring pendant and the leather lining that best suits your outfit. For a diverse collection, we recommend you buy several leather strands of different colors and a few pearl pendants. This way, you can mix and match and get a new accessory every time.
As you can imagine, you will have quite a few pearl pendants to choose from. Let us give you a few tips for finding the best pendant for your leather necklace. Take a look!
Include at least one single pearl pendant in your collection
A single pearl pendant is ideally suited for a thin leather strand. The result will be an elegant necklace that will show everybody that there is a wild side to you behind your perfectly elegant look. You can use this versatile accessory to add a bold touch to your business outfits or to add a touch of grace to your boho outfits.
Include at least one pearl and silver pendant in your collection
Pearl and silver pendants are our favorite choice for leather necklaces because they can provide a unique type of mystery to your outfits. They will be the centerpiece of your entire outfit because the delicate combination between luxurious pearls, strong silver, and daring leather will catch anybody's eye.
This daring accessory will combine exquisite diamonds and elegant pearls with the astringent boldness of the leather strand, and the results will be absolutely astonishing. You can pair this remarkable leather pearl necklace with boho to semi-formal outfits, which makes it largely adaptable.
The Best Leather Strands for Leather and Pearl Necklaces
Include a few pearl necklace leather strands in your jewelry box and you can create an entire necklace collection based on them. Here are the main types you are well-advised to buy!
The Thin Black Leather Strand
This will be the most versatile element in your entire collection because it can be paired with any type of pendant. You can add virtually anything from single pearl pendants to multi pearl and silver pendants to this type of strand because it is ideally suited to highlight the pearls. Its color makes it extremely easy to include in any given type of outfit, which is an immense advantage. Make sure you include at least one black leather strand in your collection because it is brilliantly useful.
The White Leather Strand
White strands are ideal for elegant pearl and leather jewelry because they can highlight the most delicate features of the organic gems in the pendant. These are the best choice for semi-formal attire because they can add a touch of mystery to these outfits. Moreover, the color of the strand makes these accessories perfectly compatible with light colors and pastels.
The Multi-Strand Leather Necklace
The easiest way to get a multi-strand pearl leather necklace is to use an extra-long strand that you can then adapt to get the exact length you are looking for. You will get bold statement pieces that you can customize to your outfits.
The Ideal Outfits for Leather Pearl Necklaces
Leather pearl jewelry is extremely versatile, but there are a few outfits that are perfectly compatible with these glamorous accessories. Here are our main recommendations:
The White Boho Dress
Leather and pearl jewelry and boho outfits are a match made in fashion heaven. Get the perfect boho look by wearing a long white dress and a silver and pearl pendant on a black leather strand. This romantic outfit will provide you with a breezy adventurous look that you will simply fall in love with.
The Black Goth Dress
Leather necklaces and long black dresses are a perfect fit for an extravagant look. But when you add pearls to the mix, you will get some astonishing results because your entire outfit will get a boost of sophistication. So dare to be mysterious and pair your long black dress with pearl leather choker.
The Business Suit
This is one of the most daring combinations you can make. The pearls will be perfectly in line with your sophisticated suit, while your leather necklace will be a subtle adventurous touch that will add that much-needed touch of mystery that any outfit needs to shine.
We hope we have provided you with useful information about the immense potential of the leather pearl necklace. Explore the jewelry market and start your very own collection today!
Image Sources: 1, 2, 3, 4, 5, 6, 7
(Visited 995 times, 1 visits today)