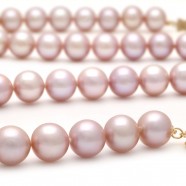 Pink pearls have become one of the most popular jewelry gemstones! Pretty pink pearls radiate femininity like no other. A matched set with a pink pearl necklace and pink pearl earrings is perfect to dress up every outfit.
From the comfy t-shirt and sneakers to the most elegant evening gown, pink pearls will add just the right touch of feminine beauty to every occasion. Whether wearing pink pearl necklace alone or matched with a set of pink pearl earrings, pink pearls are just perfect!
Pink pearls are pretty, lovely, romantic and fun. The famous panther himself wore pink! The delicate color and iridescent luster of pink pearls add a glowing shimmer and shine.
Pink pearls combine the delicate blush of alluring pink with classic pearl. Whether in a pair of pink pearl earrings a pink pearl necklace, pink pearls are just so much fun to wear!

Pink pearls are also becoming very popular for brides and bridal parties. Pink pearl necklace sets, a combination of a pink pearl necklace and matched pink pearl earrings for bridesmaids can be a great complement to their gowns.
For the modern bride, pink pearls are a lovely accent to a cream or traditional white wedding gown. Some couples are opting for pink pearls for their bridal parties rings. Lovely and pretty, pink pearls combines elements of the traditional wedding with a big dash of fun.
(Visited 102 times, 1 visits today)