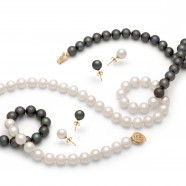 Pearl sets are just the right way to jump-start or complete a pearl collection. Pearl jewelry sets often include earrings, a necklace and a bracelet. They can also be called a pearl necklace set as the pearl necklace is most often the largest and the centerpiece.
Worn together or separate, the pieces of a pearl necklace set are simply the most classic and elegant of adornments. Pearl jewelry sets are perfect at work, at play and at every special occasion. Pearl jewelry sets are also often passed down from one generation to the next. From Mother to Daughter and Grandmothers to their granddaughters, family pearl sets are heirlooms dating 
back many generations.
As a pearl necklace set is most often a girl's first pieces of jewelry and they are especially appropriate for milestones in her life. For early infant rituals such as baptisms, a pearl necklace set that will grow with the child is a lovely gift. As she grows, pearls can be added to the bracelet and necklace completing her pearl necklace set. For graduations, pearl sets are the perfect gift. From high school to college and advanced degrees, pearl sets are a great gift to celebrate her accomplishments.
Pearl sets are also perfect as a bride's wardrobe on her special day. A bridal pearl jewelry set is the perfect and elegant adornment to her wedding dress. From very formal to a very modern ceremonies, pearl sets will be just lovely.
Mothers and grandmothers often give brides a new pearl jewelry set as a wedding gift, thereby becoming the "something new." As something borrowed, mothers and grandmothers can lend their own pearl sets to the bride. Or in some families, their pearl necklace set can be passed from generation to generation as family heirlooms to be worn by the bride at her wedding. They become the "something old."
In addition to the bride, pearl sets are perfect for every member of the bridal party. Mothers and grandmothers can wear their own pearl jewelry sets to celebrate their children's future. As a gift to her most special friends, a bride can give each of her bridesmaids pearl sets. The bridesmaids will surely appreciate these pearl sets as precious gifts.
(Visited 109 times, 1 visits today)