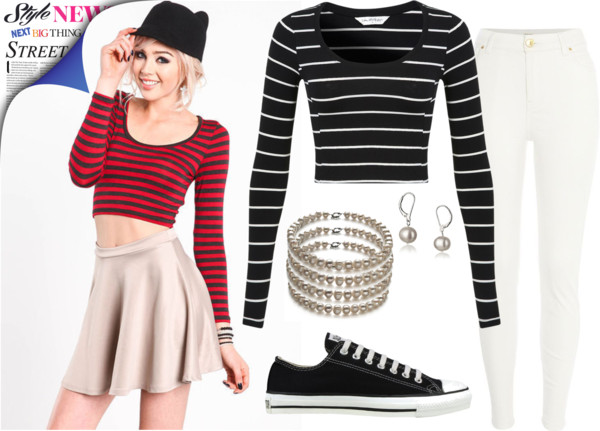 Are you one who is too cool to be dressed up but you still want to flaunt your girly style with classy pearls? Well, look no further as we introduce you to stripes.
This featured look has two of the most popular trends for the Spring/Summer of 2014, "Stripes" along with gorgeous "Pearls". We adore this combination because it is fun, effortless, and even a little flirty.
Above we showed you two ways to rock the style; with a fun champagne skater skirt for ladies who like to let their hair down and blow in the wind. The other look is with white high-waisted pants which are suitable for the Fashionista who likes to be fun and chic effortlessly.
Both looks feature striped crop tops and are easily complemented with simple sneakers and lots of confidence.
The accessory that truly brings this whole look together is the pearls. We choose to bring the most attention to the wrist with layers upon layers of Pearl's Only "Single Necklace – White A 10-11mm Freshwater Pearl Necklace" to give a gauntlet look. We also added Pearls Only "Kaitlyn Earring Set – White A 8-9mm Freshwater Pearl Earring Set" for a soft finish.
What do you think of the look? Would you wear?
(Visited 96 times, 1 visits today)