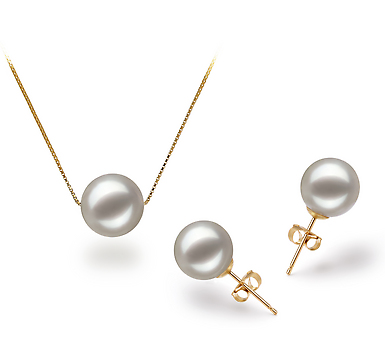 There is always a time in your life when you realize that you are truly grateful for a woman that you love. You realize that this woman, whether she is a mother, wife, aunt, sister, friend, or close family member, has been there for you during thick and thin and nothing would make you feel better than expressing your love for her than with a thoughtful, caring and beautiful gift. 
If find yourself contemplating what you want to get for the one your love—why not opt for delicate pearls?
We at Pearls Only feel that you can easily express your love with one of our pearl strand necklaces, but nothing tops one pearl necklace than a whole pearl set! We have all kinds of sets in all natural pearl colors, shapes, sizes, styles, finishes, and prices making it easy for you to get a set that best fits her style.
We are sure that she will love her gift of precious pearls and with our quality collections all you have to do is shop!
Below are some sets that we believe are the perfect gift!
Kristine Set – White AAA 8-9mm Japanese Akoya Pearl Set– $355
This set is perfect for a woman who has a love for the simple life with a hint if glam. This set features white Japanese Akoya pearl earrings and necklace.  The earrings have 14K Yellow Gold posts that are gorgeous and the necklace features one perfect pearl dangling from a 14K Yellow Gold chain!
Isabella Set – White AA 9-10mm Freshwater Pearl Set – $219
This set is without a doubt a great gift from a loved one. The set is beautifully designed and has a certain amount of unique style that makes it a must-have. The Isabella set is a perfect set or earrings and a necklace featuring tear-drop style of white freshwater pearls surrounded by sterling silver framing and Cubic Zirconia stones.
 Claudia Set – Black AA 7-8mm Freshwater Pearl Set – $105
We adore this set because it is super gorgeous. The black freshwater pearls are dynamic and definitely an attention grabber. The set features black pearl earrings and a necklace surrounded by sterling-silver metal and shiny Cubic Zirconia stones in a chic and sleek design.
 Katie Heart Set – White AA 7-10mm Freshwater Pearl Set – $145
Talk about making a loving impression with a wonderful gift! This set is gorgeous and is meant for a queen! The set features white freshwater pearls in a ring, earrings and a darling necklace. The heart sterling silver framing and Cubic Zirconia stones make this set one of our favorites.
 Kelly Set – White AA 9-10mm Freshwater Pearl Set – $149
A great look for a great price. This is a perfect set for a modern day girl that loves elegance. They ask for attention but remain modest. This set of earrings and necklace features gorgeous white freshwater pearls with sterling-silver framing shaped into a circle and also features nicely placed Cubic Zirconia stones.
What do you think of these pearl jewelry sets? Do you see a pair that would look great for the woman in your life?
For more beautiful pearl jewelry visit: http://www.pearlsonly.com.au/
(Visited 146 times, 1 visits today)