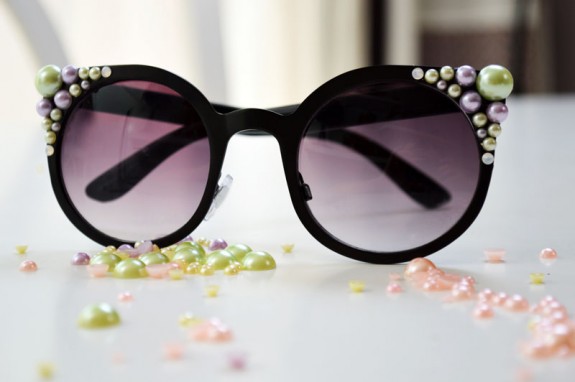 It is NEVER too early to start thinking about summer and for those who get warm weather all year long—lucky you!
Nothing is more exhilarating than getting out in the sun, enjoying life all while being up-to-the-minute in fashion!
We are here to help you get your summer accessory wardrobe started and we have found the perfect item! We discovered this tremendous DIY video from an adorable and likeable blogger named Mr. Kate, blogger of Mrkate.com, where she is shows us, in a fun and really upbeat way, how to make stylish pearl encrusted sunglasses!
The video demonstrates how to make the chic encrusted frames quickly and easily with very few steps and just a small list of supplies featured below:
• sunglasses– tip: cat-eye glasses work best or glasses with enough surface area to place your pearls.
• flat back pearls
• tweezers
• toothpicks
• E-6000 glue
Check out the video below:

What do you think of the DIY? Would you make them?
If you would like to see more awesome DIYs and much more, feel free to visit: www.mrkate.com
Image Credit: mrkate.com
(Visited 103 times, 1 visits today)