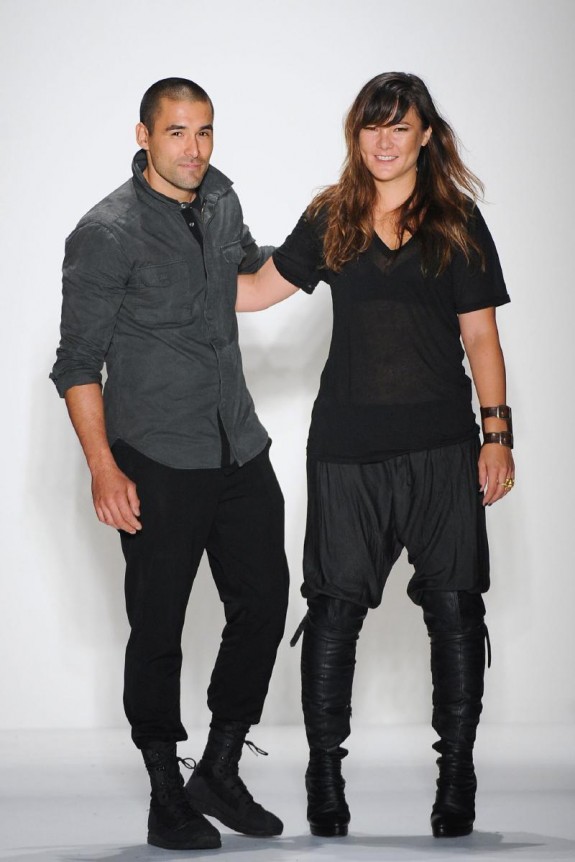 The light came on and the music hyped up the setting for the premiere of super trendy and always high fashion Nicholas K, the brother and sister team of designers that opened the very first show of the day and week for Mercedes Benz New York on February 6, 2014.
Loose fit dresses and pants for the women were in the trending color of black and white. Soft and flowing textures gave movement while leather gave edge creating a BoHo chic meets edgy and dark Fashionista creating ultra-fashion. A lot of drop waist dresses and pants looked great with the air moving textures that were draped on the models.
A white caftan dress with button down and high popped collar accompanied with combat boots earned flash photography.
Mixing textures was another theme and trend that Nicholas K. set for the event when they mixed a high neck sweater with black leather sleeves and leather knee-length shorts.
They dared to show off unique gatherings like only Nicholas K. could do. Artwork is what this team creates.
The men's wear was dark and full, yet light and relaxed as it took over the runway and gave the onlookers danger meets mod.  The men's line was filled with leather and man—amazing!
Accessories to pay close attention to: High and wide headband/half hats with fur textures; patent leather combat boots and big necks on sweaters, shirts and jackets. We are talking cow-neck sweaters at its finest! Let us not forget the knitted pom-pom necklaces that adorned some of the models.
Dying for sophistication but keeping the downtown NYC edge, the deep burgundy's and dark grays were a unique entrance into the world of business for generation "Y I have the world at my feet."
Dark chocolate was the classic theme that contrasted the black and white making the collection darker and edgier than a fashion enthusiast could imagine. No need to feel alarmed, there is no danger to being funky and creative. Think Donna Karan Fall 2013. She set the tone and Nicholas K. heard the music and continued to make fashion dance for the Fall season of 2014.
Photo Credit: nymag.com//thebestfashionblog.com
(Visited 138 times, 1 visits today)