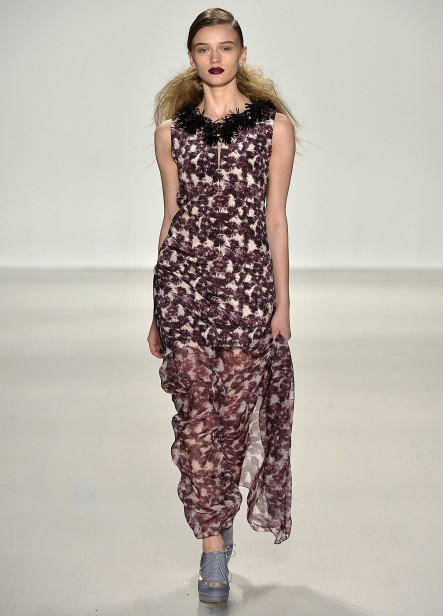 When it comes to simple and chic feminine fashion, you can never go wrong with the clothing of Noon by Noor. The dynamic duo cousins, Shaikha Noor Al Khalifa and Shaikha Haya Al Khalifa, created their line in 2008 and have been making a killing in the fashion world with their very modern and chic designs. Their clothing has captured the eyes of many celebrities and has been worn by amazing fashionistas like Solange (who is always front row at the shows) along with Blake Lively and Katy Perry.
Known for their intricate embellishments, refined aesthetic, fun and feminine silhouettes, Noon by Noor are designers that made a bang when they made their first Mercedes-Benz Fashion New York Fashion Week appearance in September 2012, introducing their Spring/Summer 2013 collection.
After attending all of their NYFW appearances so far, I have yet to be disappointed with the clean cuts and perfect tailoring.
For the Fall/Winter collection of 2014, everything was exactly the same: classy, bold, sassy and chic. These key ingredients are everything that makes Noon by Noor the fashion geniuses that understand the needs of a professional young woman that plans to conquer the world.
Opening the show with a navy blue, wool, loose fit coat; a crisp white color blouse; multi-colored floral patterned jacket; black vest; and amazing light blue, wing-tipped, clear pvc high heel shoes, us fashion stalkers knew that we would be in for a treat as we watched some of the most fashionable trends hit the runway.
One of the fashion favorites was the crisp white blouse with hidden buttons and silver sequins on the two front pockets—perfect for dressing up jeans or wearing to the workplace.
Another was a wild orchid two piece with beautiful embellishments and an A-line cut skirt that also had the same embellishments implanted into the fabric.
Another eye catching outfit was the awesome yellow sweater with a cluster of flowers, yellow and gray suit jacket with small sequins details, paired with navy blue slacks that were tailored to perfection.
Overall, the collection was very modern and chic and was filled with great detailed fashion, lots of bold patterns and the amazing canary yellow that makes nearly all designs sing!
See more of what Noon by Noor has to offer by visiting their boutique at: www.noonbynoor.com
Photo Credit: noonbynoor.com
(Visited 163 times, 1 visits today)