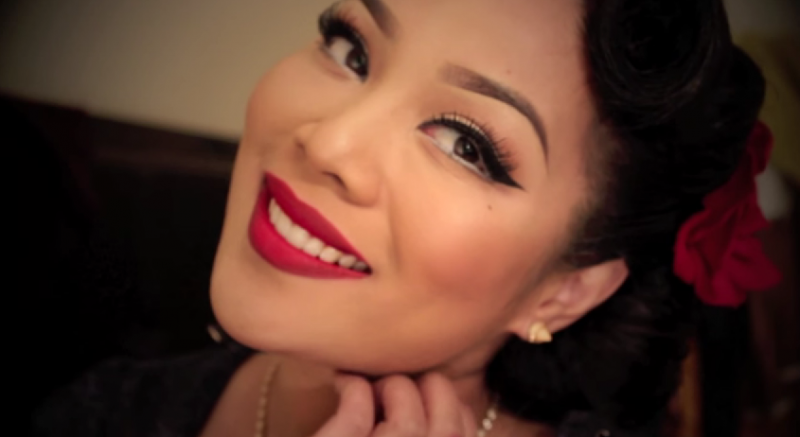 Pearls and pin-up girls have always gone hand-in-hand, and excited to share with you this adorable makeup tutorial with fun makeup and great application.
Youtube Beauty Guru, Palafoxxia, showcased her skills with this easy step-by-step tutorial on beautiful pinup makeup.  She looks like a woman ready to tango!
In her video, "1950's Pin Up Inspired Makeup Tutorial", she showed us how to look classy and sophisticated.
We love this tutorial because it is quite simple and can easily be done by a beginner. We also love this look because it goes so well with pearls.
Below is a list of the items used in the video that are needed to make this look possible:
BROWS:
Anastasia Beverly hills
Brow wiz pencil ( brunette )
Brow gel (clear)
Anastasia.net
242 ( a flat brush)
224 (Tapered Blending brush)
210 ( pointed paint brush for the eyeliner)
FOUNDATION:
Duo fiber brush by Elaina Badro
Flat Foundation Brush by Elaina Badro
LASHES:
Creme lashes: #wsp and #415
EYES:
Highlight and Eyeshadow Primer : 10 concealer palette by coastal scents
Crease color :: Saddle by M.A.C ( caramel brown color matte )
Outer Crease / Depth color : Handwritten M .A.C. ( A dark matte brown eyeshadow)
Mascara: TIgi Cosmetics mascara in Black
Pencil Liner : Fascinating by MAC
Gel Liner : Blacktrack by MAC
FACE:
Foundation: Naked skin foundation by Urbandecay in shade 5
Concealer: Select cover up by Mac in Nc20
Contour: Blunt M.A.C. (burnt yellow brown color)
Blush: Peachykeen M.A.C (rose/ apricot toned blush)
Highlight: BLANCO by Laura Gellar
RED LIPS:
Lipliner: brick by mac and a chestnut brown color
Lipstick: Elegant by Makeup Geek
This look will be greatly complemented with a pair of our "Jodie Earring Set – White AA 6-7mm Japanese Akoya Pearl Earring Set".
And our beautiful, "Almira Necklace – White AA 6-9mm Japanese Akoya Pearl Necklace".
Photo Source: Palafoxxia
(Visited 165 times, 1 visits today)