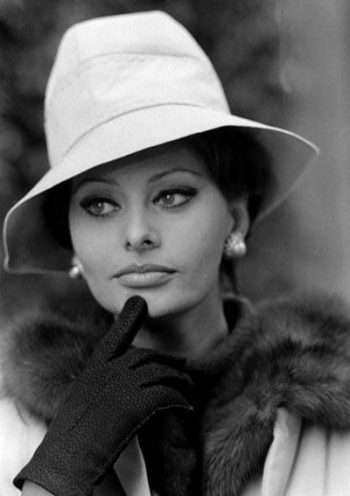 These Italian women…Mamma mia! They all have some undeniably attractive features and Sophia Loren is the perfect example. Today we'll dedicate this post to her because we love her and her unique sophisticated style.  Want to know how to wear pearls like Sophia Loren? Then keep reading because we'll show you how to accessorize your outfits using lessons of style from this Italian queen of elegance. Moreover, we will indicate our pearl suggestions that come close to the type of pearls Sophia Loren used to wear.
"Everything you see I owe to spaghetti!" she once used to say. A promoter of natural beauty, curves and sensuality, Sophia Loren became extremely popular in the 1950s-60s. We must admit that her success and fame did not change her appetite for life. She constantly affirmed that life, love and family are fueling her inside beauty.
HOW TO WEAR PEARLS LIKE SOPHIA LOREN
With a seductive and prominent figure, Sophia knew how to accentuate her beauty. And pearl jewels were her first choice when she wanted to add more glam and sophistication to her attire. We will show you in how many ways she wore a pearl necklace, plus, ways in which you can achieve the same look with our pearls. As you may expect, our pearl suggestions will be similar, not identical. But we can guarantee the same effect 😊.
1. THE DOUBLE STRAND PEARL NECKLACE
Notice the double strand pearl necklace? It adorns her neck beautifully and makes her outfits pop. If you want to wear a double strand necklace like Sophia Loren, we have several pearl necklaces. Each of them is a great option.
Here are our suggestions: the 30 inches white pearl necklace, the white double strand pearl necklace.
2. THE TRIPLE STRAND PEARL NECKLACE
We just love how she wears the triple strand necklace. Close to her neck as a choker, or loose, the white pearl necklace complimented her outfits all the time. A real and constant source of inspiration, Sophia knew how to accessorize her outfits with this kind of pearl necklace. We usually hear that it's a bit more difficult to wear triple strand pearl necklaces, but it's not that hard. You just need to pick the right clothing items.
Here are our suggestions: the triple strand white pearl necklace, the pearl necklace in Betty White, or the triple strand black pearl necklace.
3. THE MULTIPLE STRAND PEARL NECKLACE
For those of you who like opulent jewelry and simplicity when it comes to clothing, a multiple strand pearl necklace can easily transform an entire outfit into a spectacular one. Get ready to receive compliments for being bold and daring. Sophia Loren shows us that pearls are never enough and majestically creates her another stylish look by wearing multiple strands of pearls. If you want to wear pearls in Sophia's style, you can even combine 2 or more pearl necklaces of different lengths.
Here are our suggestions: white pearl necklace in Betty White or white pearl necklace in Chloe White.
4. HOW TO WEAR PEARL EARRINGS LIKE SOPHIA LOREN
The captivating allure of Sophia Loren was accentuated by the jewelry she picked. She knew how to wear pearl earrings with style and never avoided statement earrings with pearl details. You can easily obtain the look with our finest pearl earrings. Some of them are part of our new collection of pearl earring sets.
Here are our suggestions: pearl earrings pair in Bella White, a pearl earring set in Star White, pearl earrings pair in Ingrid White, or pearl earring  pair in Marrisa White.
SOPHIA LOREN MOVIES & HOLLYWOOD GLAM
Born in 1934, Sofia Villani Scicolone, the famous Italian actress and singer charmed us during her movie career and promised to become a Hollywood star. Even though she was not considered beautiful when she was a child, she blossomed in the next years. Her impeccable taste for jewelry and clothes kept our eyes glued to TV screens on movies like Houseboat (remember Cary Grant? 😊 ), El Cid, The Millionairess, Two Women, Marriage Italian-Style, Lady L, A Countess from Hong Kong.  Her performance in Two Women brought her the first major Academy Award for Best Actress for a non-English language performance and to an Italian actress. An icon of class and sex appeal, Sophia allured us for decades.
SOPHIA LOREN NOW
Wondering how Sophia Loren looks like today? She is still beautiful and smiling. Still having that passion in her soul for life.  She's 82 years old now, but she's really teaching us that age is just a number. Let's skip the stories about plastic surgeries and just focus on her natural beauty which is more than just having a pretty face. We all know that it fades away. Today you can still notice her remarkable elegance and that sexy spark in her eyes.
After all these years, Sophia Loren today is the same authentic and passionate woman we met in the 1950s. She lives now in Geneva, Switzerland, which is her home for the last 10 years. "Beauty is not even perfection. It's something that comes from inside. I felt quite unique. I was not beautiful in the sense, like, a doll. I've never been like that", were her own words.
Notice she is still wearing pearls? She looks simply dazzling!
We absolutely love finding iconic women who had and still have a passion for wearing pearls and we believe Sophia is a stupendous example. We hope you enjoyed our suggestions on how to wear pearls like Sophia Loren and that you will find it easier next time to accessorize a dress or any other outfit with pearls. In the end, let's start incorporating more of Sophia's beautiful style tricks in our daily life! We promise you'll receive a lot of compliments!
(Visited 361 times, 1 visits today)