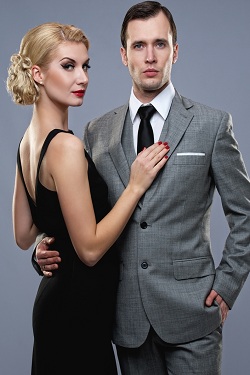 Just like pearl necklaces, pearl stud earrings have a timelessness flair to them, a feel of mystery and elegance that has been accompanying women on all occasions since the dawn of time. Like many other types of pearl jewelry, pearl stud earrings have also been associated with bridal attire. But if history has taught us anything, it's that pearls entered the modern fashion with a bang, and they are here to stay. This is why you will now find a myriad of pearl earrings in many colors, shapes, and designs, ready to enhance a woman's classiness and femininity from office morning meetings to late night dinner parties.
Nonetheless, women should also understand that there is some sort of etiquette when wearing pearl stud earrings, as not all match all types of contexts, environments, and occasions. If you want to go beyond the eternal elegant simplicity of a pair of white Freshwater pearl stud earrings (which indeed go with everything everywhere), you need to pay attention to a few styling tips and rules. Today we will take a closer look at pearl stud earrings and see how to wear them and when to add them to your outfits to look amazing no matter the occasion.
Choose Pearl Stud Earrings that Match Your Skin Tone and Personal Style
As you know already, pearls are not just black and white, and they don't come just in classic designs. Given the wide offer you are faced with, the best tip we can give you is to pick a pearl stud earrings set that matches not only your skin tone but also your personal fashion sense and style.
White Pearl Earrings: they go great with all skin tones and are able to polish both a business suit and a casual jeans-and-sneakers outfit. They are, of course, the number one choice when it comes to wedding attire or high-end events.
Black Pearl Earrings: if your complexion features warm undertones, you might be interested in a pair of black Tahitian pearl earrings set with dark green or bronze hues. They go great with both formal and casual outfits. Many women prefer them in elegant, formal occasions (galas, parties, celebrations, ) but the intrinsic sophistication of black pearls can also style up a semi-formal outfit you may wear at a club, at a date or a dinner with friends.
Pink Pearl Earrings: light hair and fair complexions benefit most of pink pearl earrings (no matter their design) as the skin's cool undertones are sweetened and enhanced by the delicate hues of pink. Adding a romantic touch to a slouchy summer dress and a refined one to a black cocktail dress, such earrings are feminine and striking on all occasions.
Lavender Pearl Earrings: spectacular and refined, a pair of Freshwater lavender pearl stud earrings highlight tanned, darker and olive skin tones, making a woman look exotic. A pair of studs works great with formal/casual outfit while more elaborate stud designs make the perfect companions to evening attire.
Golden Pearl Earrings: a pair of South Sea golden pearl studs represents a high-end statement-like piece of jewelry going great with tanned skin tones and women preferring more classic outfits. They are not traditionally considered daytime jewelry, but they can be worn during the day with elegant clothes as well.
Pearl Stud Earrings: How and Where to Wear Them
Now that you decided on the color of your pearl stud earrings, you need to pay attention to their design. Pearl studs are as timeless and versatile as a pearl necklace. They can be worn in the morning to style up a formal business suit, and they can be worn at lunch to turn your park picnic activity into a statement of playful elegance.
At night they can accompany a little black dress at a party just as they can match a jeans and boots outfit for late night drinks with your friends. Pearl stud earrings are probably a woman's best friends when it comes to adding a dash of glamor to an outfit and highlighting her femininity and sense of style on a given occasion. There are, however, a few tips to keep in mind when wearing pearl stud earrings.
Formal/Business Environment
You may wear a power suit or a semi-formal office outfit that begs for a pair of pearl studs to look polished and professional. However, if you want to stand out in a subtle yet unforgettable way, pick a pair of pearl earrings that match the color of one of your clothes:
For instance, a silky pink or pastel patterned blouse will go amazing with a pair of 8-9 mm Freshwater pink pearl earrings.
If you prefer high heels, skinny jeans and a slim fit jacket over a neutral top, make sure your black pearl stud earrings match your stilettos or your jacket for instance.
A pair of pearl stud earrings is usually enough jewelry in an office environment, but if you are in a high-end business one, you can complement the pearl studs with a simple and discrete single strand pearl bracelet in the same color as the earrings.
Casual/Street-Smart Environment
Pearl stud earrings instantly add a spark of elegance and glam to everyday clothes (except maybe to your jogging gear), matching jeans, trousers, skirts, tops, day gowns and flat shoes/sneakers. In such contexts, you can let your imagination do the talking by picking a pair of white/black pearl studs that work with everything (color-wise).
If you prefer colored pearls, make sure they match your skin tone and make a complementary duo together with a color/shade you wear on your clothes.
You can stand out of the crowd by picking a pair of larger 9-10 mm Freshwater lavender pearl stud earrings and matching them to your lavender silk stocking you wear to freshen up your little black dress at a casual party.
You can match a pair of white pearl studs with a small casual pearl ring for a more glamorous effect – but make sure you don't add other pieces of jewelry as they will make you look too shiny and a bit out of place.
Elegant/High-End Environment
Such occasions go beyond an office party or a dinner date. They enter the realm of black tie events, galas, venue openings, product launches, premieres and events that usually have a "wow" or glam effect attached to them. Such events typically require long evening gowns, heels, and elaborate outfits, and statement jewelry perhaps.
If you want to make the best out of your simple yet sophisticated pearl stud earrings, make sure you first tie your hair up to let them shine on your earlobes.
Don't let your earrings be overwhelmed by another piece of jewelry worn in their proximity (a heavy pearl necklace or a statement necklace). If you want to also highlight your neck, wear a thin, refined metal chain in the same metal as the earrings or a delicate pearl pendant.
For a stunning (and symmetric) effect, you can also wear a cocktail pearl ring matching the color of your pearl stud earrings.
If the event is focused on glam, you can wear other pearl jewelry to compliment your outfit, such as a multi-strand pearl bracelet.
As far as color is concerned, keep in mind that black and white pearls match everything, while colored pearls should somehow find themselves reflected in a shade/nuance of your outfit.
As we said, golden pearl stud earrings are the epitome of elegance, working together amazingly with evening gowns and elegant outfits as long as the golden hues don't clash against your clothes and other accessories.
As you know, there are not only pearl stud earrings that can be worn in all contexts. We also have pearl drop earrings and complex elegant pearl chandelier earrings to be concerned about, so next time we will focus on them and their amazing ability to make a woman look amazing with no effort at all.
Image sources: 1, 2, 3, 4, 5, 6, 7
(Visited 641 times, 1 visits today)