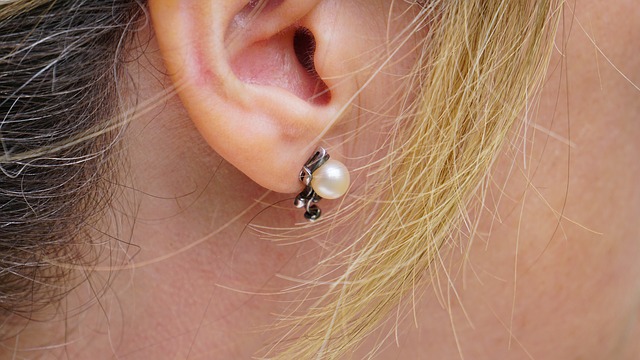 A beautiful pair of pearl earrings is a great accessory that makes the ideal fashion statement. Not only will they help with accentuating your best features, but will also complement the rest of your outfit. Today we will show you how to choose pearl earrings according to their size and length. Whether wearing casual or more formal attire a set of earrings containing pearls will add the perfect finishing touch to what you are wearing.
But with so many styles of pearl earrings to select from it can prove difficult deciding what pair to buy. In simple terms, it tends to come down to a matter of taste. You may want to wear a large pair of earrings that allow you to make a statement, or you may prefer to wear something smaller a pair of pearl earrings stud style you can wear every day.
However, before you do invest in any earrings containing pearls there are certain things you need to take into consideration beforehand.  Below we offer some tips about how to choose the best size and length of pearl earrings for you.  You want a pair looks not only fabulous but helps to enhance your looks further.
How To Choose The Right Size Pearl Earrings
A pair of beautiful chandelier style pearl earrings may be a lot of fun, but they won't suit everything you choose to wear them with. Rather than complementing your look, they can turn into quite a big distraction.
What would be worse than when you are talking to someone they seem more focused on your earrings, rather than on what you are saying?
One very simple rule you can follow when it comes to choosing the size of earrings you wear is as follows. Make sure the pearl earrings you select are smaller or the same size as your eye socket. A pair of stud pearl earrings will add a touch of sophistication to your outfit.
Another thing to consider is your age yes it can play a role, as some large pearl earrings are more suitable for more mature women to wear.
As you know by now pearls do come in a wide variety of different sizes, but think of them in the following terms.
6-7mm Pearls
These are regarded as the classic size for pearl earrings and are suitable for women of all ages to wear.  The great thing about these size pearls is that they never go out of fashion, as they are neither too big nor too small.   They are actually considered a safe size for women and girls to wear.  Why not think about investing in a pair of beautiful silver and pearl stud earrings that can be worn whenever you want?
8-9mm Pearls
Pearl earrings that include these size pearls in their design are often looked as being more statement pieces of jewelry. Yet they still will add that all-important touch of elegance and sophistication to any outfit you choose to wear them with. These are the kinds of earrings that add a touch of flair to your wardrobe. One particular fashion icon who loved to wear 8-9mm pearl earrings was the beautiful Jackie Kennedy.
9-10mm Pearls
These are the kinds of pearl earrings that really are only meant to be worn on special occasions.  Not only are pearls of this size the epitome of grandeur and luxury, but also immense beauty.   A beautiful pair of gold and pearl dangle earrings made up of either black, lilac or golden coloured pearls would make a real statement.
10-11mm Pearls
Most would say that only more mature women should consider wearing elegant pearl drop earrings containing these size pearls in them. But in fact today it is okay for women of all ages to wear such beautiful jewelry. Like the previous size pearls these are best left for wearing on special occasions or when attending formal events. You wear these size pearls in your earrings you will attract attention.
Wearing the right kind of pearl earrings is the perfect way to perk up your face and also add a touch of class to your wardrobe.  But you still need to be wary so you don't make the mistake of wearing pearl earrings that may be on trend but don't suit you.
When it comes to choosing the right pair of pearl earrings for you there are other important factors you need to also consider. Below we take a look at what these are.
Must Match Your Face Shape
If you choose to wear the wrong kind of earrings, they can end up making your face look thin, wide, fat or long.  It is all dependent on the shape of your face.   By knowing what shape face you have, you can then decide what kind of pearl earrings are best for you.
Inverted Triangle Shape Face
Is your forehead the widest part of your face and then tapers down to a pointy narrow chin?  Then you have an inverted triangle shape face, which is like a heart-shaped one.   To help provide balance to your face, select pearl earrings that help to take the emphasis away from your forehead.  Choose a pair of teardrop or chandelier style ones as these will help to create the illusion of width to your jawline.
Oval Shape Face
Does your face look more like an egg?  Well, you are lucky as you can wear any style of earrings you like.  A pair of stud pearl earrings or one in a triangular shape will help to emphasise your beautiful cheekbones even more.
Round Shape Face
Women with a round or circular shaped face will find that the widest point of their face is where their cheekbones are.  Also, unlike an inverted triangular shape face, there is no taper to their chin.   If you have this shape face, then you should consider wearing drop or dangle pearl earrings as they help to elongate your face.  This will help to make it look slimmer.
Heart Shape Face
Is your forehead wider than your cheekbones, but the bottom part of your face narrows like the bottom of a heart does?  Then you have a heart-shaped face.  For you, it is important that you help to draw attention away from your chin by wearing some beautiful teardrop or chandelier style earrings with pearls in them.   Choose earrings that are wider at the bottom as they will help to fill in the lower part of your face, making it look more balanced.
Long And Narrow Face Shape
Do you have a long, thin face?  If you do, then select earrings that help show off the width rather than the length of your face.  The kinds of pearl earrings to wear are studs, short dangles or ones made up of a cluster of pearls as these will all help to add width to your face, so making it look much fuller.
Square Shape Face
Is your jawline and forehead of a similar width? Would you like to soften the hard edges of your face?  If the answer to both these questions is yes, then you should look at wearing medium to long pearl earrings with a rounded edge to them. Such styles will help to add softness to your face.
Choosing The Right Length Pearl Earrings
As with size, the length of the earrings being worn matters, as they will help to enhance your features and provide you with a more balanced look. If you wear a pair of earrings that are too long, they may not only be inappropriate but also prove a distraction to others around you. Remember the whole aim of wearing the right kind of pearl earrings is to help enhance your look and add a touch of sophistication and glamour to your outfit.
To find the best length of pearl earrings for you there is a simple trick you can carry out. With your index finger, find the base of your ear where it meets your jawline. Now, with your finger trace down your jawbone until you feel its angle. This is the point that shows you the perfect length of earrings for you to wear.
Another thing to consider when deciding what length of pearl earrings you would like to wear is the length of your neck.   If you have quite a short neck, you need to avoid wearing a pair of long dangle or drop pearl earrings.  This is because they will make your neck look even shorter. So consider a pair of earrings of a more modest length as they will help to give the illusion your neck is longer than it really is.  They do this by helping to create more physical space between your ears and shoulders.
Please use this guide as a starting point in helping to choose the right size and length of pearl earrings for you. But do not forget to also consider choosing a pair that suits your personality and style. Doing this, you will choose the right pair of pearl earrings that complement your look perfectly. Here at PearlsOnly.com, we have a wonderful selection of beautiful pearl earrings in a wide variety of different sizes and lengths for you to choose from.  So finding a pair that perfectly suits your particular tastes and look shouldn't prove at all difficult.
(Visited 76 times, 1 visits today)