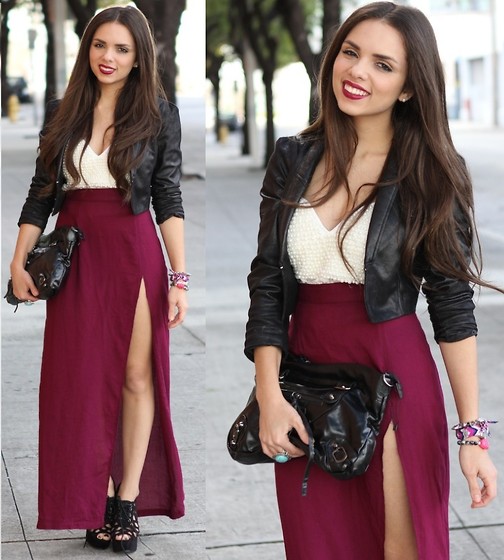 .
.
.
.
.
.
.
.
.
.
.
.
.
.
.
.
This Fashionista was chosen as our "Fashionista of the Day in Pearls" because she rocked out in leather, edgy accessories and a fashionable and unique pearl crop top!
Daniela Ramirez, blogger of Nancy's Kloset, shows off her rocker chic style in a long burgundy maxi skirt with high split, accompanied with black lace-up pumps, black leather oversized clutch, black edgy jacket, bold bracelets and ring, red lipstick and the showstopper—a pearl crop top from Beginning Boutique, beginningboutique.com.au.
We think this Fashionista looks terrific and we are sure you will love her look as well. What do you think of this look?
Visit Daniela at her website: nanysklozet.com
Photo Credit: nanysklozet.com
(Visited 234 times, 1 visits today)