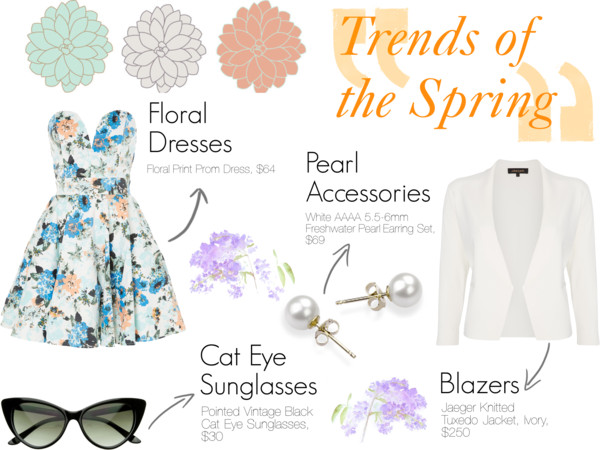 Spring is here—hooray! Nothing is better than the smell of rain, warm rays from the sun, and the sight of blooming flowers! We, Fashionista's, wait anxiously for the Spring because it's the "green light" for us to wear a little less and give a whole lot more in floral fashion.
Trends are always going to change, evolve and repeat mirroring the life of Spring.  Above, we created a look that shows the must-haves for your closet. Below you will find 4 trends that are totally in for this season and why it will make you a Fashion-YES!
Floral Dresses
Dresses are always going to be a Spring and Summer staple because they are easy, breezy and create a lady-like look and feel. We are forecasting that floral patterned dresses will be a major hit this Spring because the blooming flowers are so very cheerful. You can find the floral patterns come in many colors and flower sizes.
Our number one pick for the cheap and cheerful is a "Floral Print Dress" sweetheart dress at HOUSEOFFRASER.CO.UK because it is fun and flirty. The neckline with the skater shirt flair makes this dress a great addition to your wardrobe.
The cost: $64
Pearl Accessories
Pearls are the best kind of accessory because they are versatile and so very feminine. We predict that pearls will be seen everywhere. Pearls are finding themselves on all kinds of accessories including bags, earrings, bracelets, necklaces, and even shoes.
We really love the "White AAAA 5.5-6mm Freshwater Pearl Earring Set" from PEARLSONLY.COM. These earrings are real freshwater pearls unlike many pearls on the marketplace. Wearing these earrings will really draw attention.
The cost: $75
Blazers
As the days begin to warm up, the evenings are still cool, so a classic blazer is a must-have. Having a blazer adds a new look to the dress making it more classy or depending on the style, a little edgy. Blazers go with everything from jeans to dresses to shorts.
We like the "Jaeger Knitted Tuxedo Jacket, Ivory" from JOHNLEWIS.COM because white is a great color this season and represents purity and cleanliness. This blazer has a great style that is very polished and looks perfect with a sweetheart cut.
The cost: $250
Cat Eye Sunglasses
Cat Eye glasses are carrying over from last year and definitely trending again this year! People just can't seem to get enough of these stylish frames. Cat eye glasses are fun and flirty and look good with almost and outfit. Look for them in beautiful pastels, larger frames and a great selection of glass tints.  We find that most Fashionistas are attracted to this style because it has that classic "Old Hollywood" style.
We really love the "Pointed Vintage Black Cat Eye Sunglasses" from SHADESDADDY.COM because they have such a large selection on colors and patterns, your choice will make you unique and envied.
The cost: $60
What do you think of the new trends? Will you be wearing?
(Visited 118 times, 1 visits today)