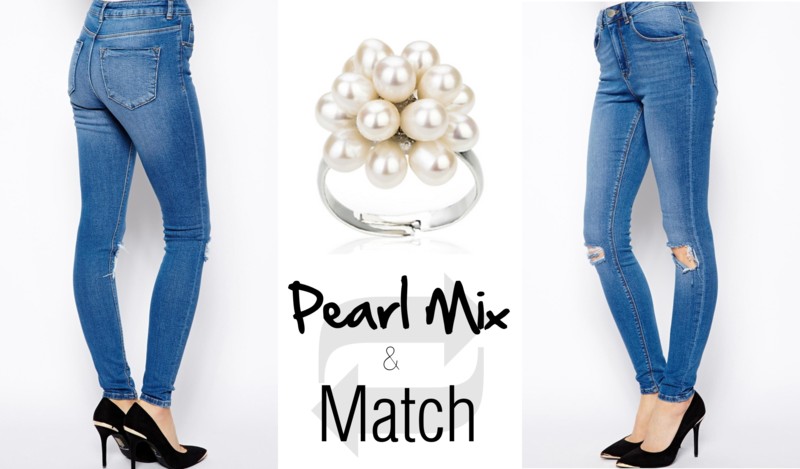 We, at Pearls Only, are forecasters of stylish must-haves items! This causes us to be constantly searching for items to add to our collection of great clothing and accessories. We always look forward to sharing fashionable styles that you are in need of for your growing wardrobe!
Today in our "Pearl Mix & Match" we have a pair of skinny jeans and a pearl ring that goes great together! The combination of a chic skinny pair of jeans by ASOS.com, and beautiful pearl ring by Pearls Only is a fashion must!
No one can go wrong with a pair of complimenting jeans and these ASOS Ridley Skinny Jeans In Busted Mid Wash Blue with Busted Knees are just that. These ultra-skinny jeans by the ASOS Collection are made from super soft and high-stretch denim to add comfort and great fit. It also features lifting back pockets for a contoured bottom, figure flattering high-rise, concealed zip fly and button fastening, and ripped detail to knee.
The jeans look remarkable with the Sabina Ring – White A 5-6mm Freshwater Pearl Ring because it features a gorgeous flower design made of white freshwater pearls and sterling silver. This will look amazing not only with these jeans but with almost any clothing items you own.
To make a complete look: pair with a loose fit blouse, a pair of stylish ankle boots, and a cozy and chic coat. Super fashionable!
You can find the jeans at ASOS.com on sale for $41.69 and the ring at Pearlsonly.com on sale for $30, making the combination a little over $70. What a deal!
What do you think of the look? Are you interested in seeing more fashion-forward trendy clothing? Check back often for more fashion awesomeness!
Photo Credit: Pearls Only//ASOS
(Visited 148 times, 1 visits today)