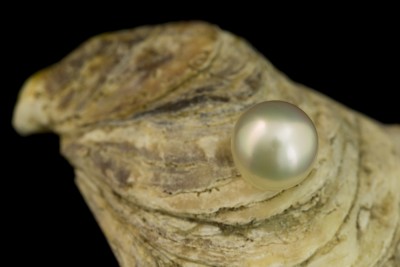 Buying pearls is indeed a difficult mission, as there are many types of pearls out there and they need your utmost attention. In order to make an informed decision and a right choice, you need to learn a few things before you buy South Sea pearls, Akoya pearls, Freshwater pearls, Cortez pearls and so on. The first thing you need to know is that most pearls available on the market are cultured pearls, as opposed to natural ones. While the former are grown with our help and our supervision, the latter grow naturally in wild oyster shells. The difference between them is that natural pearls are rare and very costly, although both types look the same.
South Sea pearls, among all cultivated types, are the rarest and most expensive, ranging in price from $400 to $300,000, depending on the color and the jewelry type they are set in. They are saltwater pearls (while many of the other types of cultured pearls are grown in freshwater). Their name comes from the South Seas around Northern Australia and South East Asia (Indonesia and Myanmar included). One of the first things you need to know about them is that they are the largest in size among cultured pearls and present thick nacre which makes them rare and extremely valuable.
1. What Color Types of South Sea Pearls Are There?
Before hazarding to buy a pair of South Sea pearl earrings or a South Sea pearl necklace, take the time to learn about them. Usually, South Sea pearls come in three main colors.
White South Sea Pearls: Such pearls grow in silver-lipped oysters and are farmed mostly off the shores of Okinawa or Tahiti. They are large and present a lush luster, being the most common type available on the market. The white color can range from optic white to a creamy hue, but many also come with a pale rose overtone.
Black South Sea Pearls: These pearls are cultivated in black-lipped oysters in the warm waters of the Tahitian coast. They are large in body, starting from 8mm and reaching even 15mm. The average size is around 12mm. While they are called "black pearls", you need to know that one of the most precious in this category is the pearl featuring a peacock green undertone. Black pearls in this range also come in rich navy blue, plum or dark green overtones, sometimes adorned with pink and blue soft hues.
Golden South Sea Pearls: Among the different types of South Sea pearls, the golden ones are the rarest and most valuable. They are grown in gold lipped oysters in the tropical areas of Indonesia and the Philippines. Very large, starting at 9 mm, they feature a wide range of gold palette colors: champagne, bright gold, and soft glowing cream.
Silver South Sea pearls: Also very rare, silver South Sea pearls are available in a wide range of luxury pearl jewelry pieces. They can also grow from silver-lipped oysters, together with other sisters of interesting colors, hue and overtones, such as the aqua pearls or the blue family of overtones.
2. What Are the Value Factors When Buying South Sea Pearls Jewelry?
Pearl shape: South Sea pearls are less round or almost round (10% to 30% of each harvest) than other types of cultured pearls. This makes them even more unique, as a baroque or drop-shaped one makes luxurious and rare pearl rings, pearl earrings or necklaces. Be them white, black, golden or silver, in terms of shape, South Sea pearls are always surprising, versatile, timeless and modern in the same time.
Pearl luster: one of the most important value factors when buying South Sea pearls, the gem's luster should be of great concern. Luster represents the sharpness and reflection intensity of the pearl's surface. While not completely perfect, you can test the pearl's luster by looking at it as if you'd look into a mirror: the clearer the image is, the more valuable the pearl is.
Pearl surface: this is an important factor to consider when buying any type of pearl: the surface of a cultured pearl is a bit gritty while a fake pearl is smooth. You can do the "Tooth Test" by gently sliding the pearl across the front of your teeth. Depending on how you feel its surface, you will know if it is true or fake.
Pearl size: South Sea pearls are large in size, so they go best with necklaces. Every woman will fall in love with a South Sea pearl pendant or an engagement ring. While some jewelers consider the size of the South Sea pearls a bit uncomfortable for earrings or even rings, such jewelry is highly sought after. Keep in mind that the larger the pearl size, the higher the price.
Pearl similarity: if you intend to buy a South Sea necklace, for instance, look at the pearls' similarity: being different in size, shape, colors, finish, and overtones, they can produce an unwanted imbalance. However, the more similar the pearls are in the strands, the more valuable the necklaces will be.
3. South Sea Pearl Jewelry Buying Tips
When seeking the perfect South Sea pearl jewelry piece, you need to take into consideration the following features and decide exactly what you want in terms of:
Color
Size
Luster
Surface
Shape
Similarity
With this list in mind, you can safely try finding the best value-price balance and find the perfect pearl jewelry type. However, before filling in the check, don't forget to take into account the following tips:
Get informed. Search wiki or other sources for detailed materials on South Sea pearls, where and how they grow, important brands that sell them, what to know about their bodies and varieties.
Look for a jewelry house that knows everything about pearls. Ask questions, test a few types of South Sea pearls and get as much information as you can. This means that you should visit a few stores before deciding on that particular South Sea pearl choker or a pair of South Sea earring.
Choose a store offering a serious return policy. You may love how pearls look in photos and behind the shopping window, however, they might not look as good on you. It is important to choose pearls that enhance your natural beauty, your skin tone, neckline and facial features.
Choose stores with impeccable reputation and tradition in selling pearls. Of course, there are many important brands, besides Tiffany's or Mikimoto, which sell high-quality pearls at fair prices. You can look directly for Australian exporters, China, and U.K. based pearl shops.
If you buy pearls from online shops, do a background check of the retailer and look for professional grading systems. Learn where the pearls were farmed from, look for customers' reviews, use a price comparison system, get informed about the return policy, extra taxes (shipping etc) and check the consumer protection disclaimers featured on the shop's website.
Last Things You Should Know
Given their unique colors, sizes and shapes, South Sea pearls come in a wide range of jewelry. Studs, a refined bracelet, pendants, necklaces (collars, chokers, loose ropes etc) and rings. They all feature exquisite designs and can go great with diamonds and precious metals such as gold and silver. All you need to do is search thoroughly and choose wisely.
If you want to buy South Sea pearls jewelry for somebody else, keep in mind that larger pearls are recommended for mature women, while smaller sized ones are meant for teenage and young girls.
(Visited 570 times, 1 visits today)