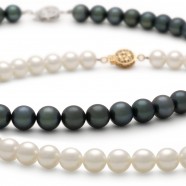 Akoya pearl necklaces can be found in just about every well-dressed woman's wardrobe thanks to the work of Mikimoto, the father of modern pearl cultivation. A simple stand of pearls is often passed down through the generations from mother to daughter.
A necklace of Akoya pearls is seen by many women as a rite of passage, usually given on the girl's sixteenth birthday. The beauty of a pearl necklace is that it can be worn successfully on nearly all occasions, from a very formal affair to the most casual. Pearl necklaces are popular in single, double and even multiple stands, depending on the event to which a woman will be wearing them.
The Akoya pearl once was solely a product of Japan, but a mysterious disease nearly wiped out pearl farming in the mid-1990s. Today, Chinese pearl farmers have cross-bred their oysters with the Akoya, and now they are considered to be the major of producer of Akoya pearls.
The Japanese pearl farmer is concentrating on producing only the larger pearls that the Chinese cannot. The appearance of the Akoya pearl is important when combined with other factors such as luster, roundness and surface quality. A necklace made of matching Akoya pearls is enhanced by these factors.
(Visited 102 times, 1 visits today)