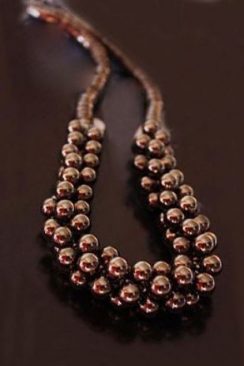 There is a certain fascination with chocolate pearls for all the right reasons. To start with, chocolate pearls are simply smashing and their unusual color makes women covet such a fine piece of jewelry. Chocolate pearls go well with any hair color and glamorous outfit.
Having this in mind, chocolate pearls are a must-have item that will last you a lifetime. Forget about fleeting trends, accessories that break easily and lose their shine in a few months; chocolate pearls last forever, keeping their luster and perfect shape for an eternity.
1. Lovely Chocolate Cultured Pearls Set
Any woman should have a set of pearls be them chocolate or not. The iconic association of pearls and elegance is there for a reason. Any cultured set of pearls can make a woman feel as if she's walking on air.
Chocolate pearls go well with anything; you can try wearing more casual chic-romantic outfits with chocolate pearls and they will still highlight your outfit's key elements. The same goes for more formal outfits. Click here to check out some stunning cultured pearl sets.
2. Unforgettable Chocolate Pearl Necklace
The necklace is a key accessory for every woman that wants to subtly draw attention to her fabulous outfit and cleavage. Chocolate pearls are incredibly rare, which makes any woman wearing such a necklace a lucky lady.
The color itself is quite glamorous, reminding people of elegance, subtle luxury and gracefulness. And which woman doesn't deserve to feel pampered and spoiled? Shine like a queen and highlight your gown by choosing a bewitching necklace made of chocolate pearls. Pick your favorite necklace here.
3. Chocolate Pearls Rings
There is nothing more delightful than a chocolate pearl ring. If you are a man looking for the perfect engagement ring, look no further. It is a well-known fact that women adore unique pieces of jewelry and a chocolate pearl ring encrusted with diamonds can make the best choice ever.
Chocolate pearls are a rare sight and having a ring adorned with such a pearl is something that any woman secretly desires. A sense of uniqueness and timeless elegance encapsulated into one ring. Who wouldn't want to own such a valuable, splendid piece of jewelry?
4. Striking Chocolate Pearl Earrings
The best way to highlight your makeup, hairstyle and neckline is to go for a pair of sensational chocolate pearl earrings. Pearl earrings exude confidence and femininity and they are recommended for women who enjoy being in the center of attention.
After all, elegance will always be noticed, no matter what. Pearl earrings can also be worn in more casual situations given the right accessories, of course.
5. Chocolate Pearls for Bracelets
The first thing that people notice about a woman is her manicure. A lady's manicure should be flawless at all times and what better way to highlight one's hands than go for a chocolate pearl bracelet? The subtle shine of each pearl, the delicate design and the little diamonds that sparkle create one amazing piece of jewelry that will last you a lifetime.
6. Chocolate Tahitian Pearl Earrings
Tahitian pearl earrings can be identified from the start because their particularity lies in their size and aspect. These pearls are among the largest cultured pearls in the world.  These big beauties can be worn during the day as well as during the night.
The best types of makeup that go with these pearls are the glamorous and natural ones. Depending on the occasion, chocolate Tahitian pearl earrings can help you enjoy some of the most memorable moments in your life.
7. Entrancing Chocolate Pearl Studs
Any stud design can work great with casual outfits. If you like elegance but you also enjoy comfort, going for chocolate pearl studs can be one inspired, glamorous idea. These delicate pearls can also go with more formal clothes as long as you wear your hair in a bun or go for a gorgeous updo to better highlight your earrings.
Pearl studs are also recommended for women with short hair to easily highlight their facial features and gracefulness in a very refined way. Women with long hair can also choose chocolate pearl studs if they are tired of wearing longer earrings that get tangled in their long locks.
8. Drop Chocolate Pearl Earrings
A choice for women who like wearing easily noticeable earrings would be a pair of drop pearl earrings. Drop pearl earrings are more appropriate for formal attire and special events. A gown or elegant outfit are required in order to easily highlight such a special kind of jewel.
Drop chocolate earrings are recommended for extroverted, extravagant personalities who like turning heads wherever they may go. In some cases, drop earrings can also be worn during semi-formal events or meetings.
9. Chocolate Pearls as Pendants
Knockout chocolate pearls are so versatile they can easily serve one's purpose to get noticed easily by being worn as pendants. Nothing compares to a chocolate pearl pendant that is hanging from a silver or golden chain.
Another magnificent detail that a woman should take into consideration is the fact that chocolate pearls go well with both gold and silver accents, thanks to the versatility of this color. To make things even better, brown is a trending color this season and pearls are timeless classics so you've got a killer combination on your hands.
10. Stunning Dark Chocolate Pearls
If you really like to make a good first impression in a formal context, go for dark chocolate pearls. These pearls are out of this world, to say the least. These dark chocolate pearls will seem black during nighttime and during the day the dark brown color will be easily spotted, leaving people in awe.
Dark chocolate pearls should be worn by any woman who has a soft spot for all things elegant and unique. These rare pearls are a delight for any avid pearl collector, fashion or luxury lover or someone who has an eye for fashion and aesthetics in general.
(Visited 404 times, 1 visits today)