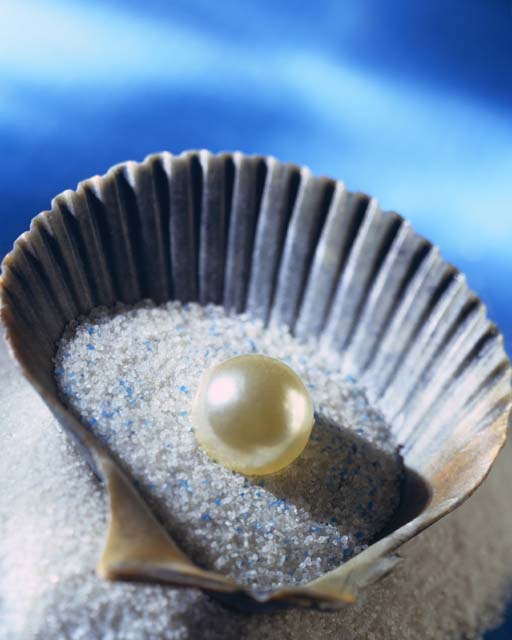 Pearls have been used in elegant jewellery pieces for so long now that we have almost desensitised ourselves to their radiant beauty – admittedly, it would be incredibly hard to find anybody who didn't immediately envy a glamorous pearl neck lace laden on top of a gorgeous, sultry body con dress. But how relevant are pearls in the modern day? Are they only to be worn when adorning vintage inspired numbers or can we use them as part of our modern repertoire of increasingly wild, vibrant and original formal wear? The answer is a simple yes to both the former and the latter.
Though pearls have been around for centuries, the modern pearl jewellery we see today really owes it self to the incredibly wondrous output of a gentleman named Kokichi Mikimoto. His vision was simply to make sure that every woman in the world wore a pearl necklace – whilst this facet of his dream was relatively doomed from the start due to the supply and demand ratio, the fact is that he pretty much single handily industrialised pearl jewellery production and ensured that these gorgeous items weren't just resigned to the wealthy elite. For the first time, the lower classes were able to afford these items due to the artificial "insemination" process that allowed him to force pearls to grow inside of oysters without having to rely entirely on luck to find them. This industrialisation opened the pearl up to entirely new audiences that would simply never previously have acquired them, and in some cases, probably wouldn't have known about them either; but it took a certain lady by the name of Marilyn Monroe to really set pearl jewellery, specifically pearl necklaces in stone as one of the most iconic jewellery pieces of all time when she was presented with a pearl necklace made by Mikimoto as a gift from her second husband baseball legend Joe DiMaggio. This pearl necklace was one of the very few precious jewellery items she owned and it has long been associated with her iconic image, an image that made scores of adoring fans long to replicate it.
This obsession with pearls has never really disappeared as they have long been revered as a strong statement piece for anyone looking to impress at a formal gathering, but as with anything, they have been around for such a long time that they have somewhat been associated with strictly vintage attire as opposed to being something a lady can wear casually in a modern setting. Luckily, this is rapidly changing, as some of the worlds leading names in the glamour industry are now re inventing the image of the pearl and the setting in which it can be used. Pearl neck laces are just the beginning, and even then, this old time classic is being re structured in such a way that it applies it self more appropriately to our modern setting through ever inventive and evolving designs that hold relevance in our social structure. What was old is now striking, modern and in some cases even futuristic.
Dior were one of the driving forces behind this cultural re invention, when they developed a double pearl earring named Mise en dior. This now iconic jewellery piece has been hotly imitated, and widely publicised due to the huge celebrity names that have them as part of their glamour arsenal. Jennifer Lawrence, Emma Watson and Rihanna are just a handful of the massive household names who adoringly sport these earrings to scores of award ceremonies, and in truth, it's easy to see why. The pearls included in the earrings are of the highest grade, and the simple design affords its user a large statement pearl at the front of the ear, and a smaller, but no less elegant pearl at the back placed on the sealing stud. As a result, no matter which angle you are viewing from, you get an eyeful of premium grade pearl that radiates class and elegance in a simple yet sophisticated manner. This new concept was only the beginning as ever since, pearl earrings have been appearing in many new shapes and sizes including a few gorgeous pairs created by Yvonne Leon, featuring a string of small pearls running parallel to the curve of the ear that are literally impossible to miss and are a wonder to behold.
Melanie Georgacopoulos is perhaps one of the primary pioneers in the modern pearl movement, with her elegant, creative and unmistakably modern designs that feature pearls used in an array of inventive displays, often half dipped in other precious metals or arranged in highly decorative and strikingly eye catching manners – these range from fairly simple pearl earrings paired with high calibre diamonds to ring arrangements featuring pearls laid in a row like peas in a pod. These quirky, imaginative and frankly beautiful designs are unquestionably worth the asking price and speak for themselves in terms of quality and impact. Mikimoto themselves, arguably the founding house behind the modern pearl as we know it (or at the very least, it's public image) are also re inventing themselves to adhere to the changing times – you'll never be short of a classic pearl neck lace or stud earring when browsing through their wares, but they are now producing more avant garde pieces like a Tahitian pearl geometric cock tail ring, whilst Yoko London, a long standing seventh generation firm and catching the Christmas big with bauble in spired pearl jewellery to make its wearer feel festive.
No matter what your occasion may be, the fact is that you can now easily find a piece of pearl jewellery that owes it self perfectly to your chosen attire and the circumstance in question – no longer do you have to dress to match a pearl neck lace, you can now find pearl jewellery to match any striking modern design you may choose to adorn yourself with. The only weak spot of pearls, arguably their versatility, has now been fully addressed and the evolution of pearl jewellery designs over the past 10 years has now firmly modernised the pearl for an entirely new generation. Get shopping today and use the classic beauty of pearls to shine in a modern world.
(Visited 212 times, 1 visits today)