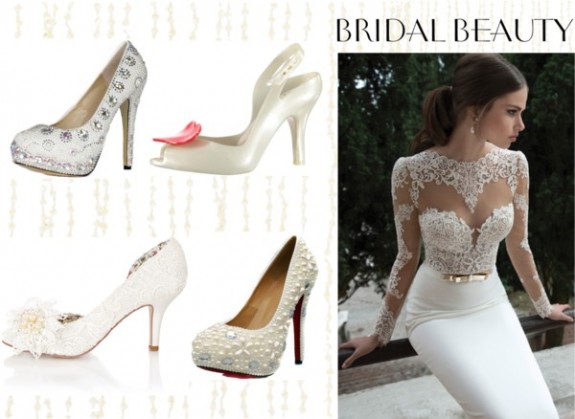 So you have finally picked out your wedding dress. You are so much closer to being the perfect bride, but you still have to shop for accessories and that includes your fabulous shoes. Shoes are almost as important as the wedding dress because it completes the entire look. There are many types of shoes to select from and styles to consider but there are many things to contemplate before you purchase your lovely pair of footwear. Never fear, Pearls Only is always thinking about you and your special day and we have provided a simple guide that can help you make the proper decisions.
The Cost- Fabulous does not mean that they have to be extremely expensive shoes.   What is the cost that you are willing to spend for a pair of wedding shoes? Will you be wearing it after the wedding or will you put them away as a keepsake? These are questions that you want to consider when your purchase your wedding shoes.
Most shoes can be bought for as low as $50 and are absolutely beautiful or you can find a gorgeous pair at prices over $1,000. Have you already found the shoes that you want? Then make sure that you have already fit the cost into your budget and look for those shoes at your favorite department stores or boutiques online because you may find them at discount prices. Just promise not to spend more than you've budgeted.
Added Tip: Be sure to keep your receipt in case you have to return them for any reason, and learn more about their return and exchange policies.
The Comfort-You will be on your feet a lot during your wedding day. From walking down the aisle to dancing the night away, being in motion is a huge part of the bride's day and you need to be very comfortable. Purchase a shoe that will fit your foot like a slipper and not have you distracted from all of the fun. And never buy shoes to make your feet look small, buy the shoes that fit properly.
If you purchase your shoes a month before the wedding, wear them around the house for an hour or two so that you can break them in and get use to the feel.
There are comfort soles that you can purchase that will also bring relief to shoes that have the ability to bring a lot of aches and pains.
If you're not a "heels kind of girl" and you have a very long dress that may not reveal your footwork, think about wearing a pair of embellished flats. There are so many beautiful flats designs to choose from and you also have the option of having them custom made to your liking.
Added Tip: Since you will more than likely be dancing and mingling, purchasing a pair of flats for the reception can be an excellent idea and a comfortable decision too.
The Convenience- When you are purchasing your shoes, be sure that you have thought about the convenience of the shoes. Are you getting married on the beach? If so, then you may want to opt for a beautiful pair of embellished thong sandals or maybe no shoes at all. If you choose no shoes, then you may want to wear a pearl ankle bracelet.
Will you be walking a carpet or a slippery runner? Consider shoes that have a non-slip grip.
Is your dress very long? Then you may want to wear a pair of five inch heels so that you are a little taller and the dress hem shows just enough of your shoes. Be sure that when you are being fitted for your dress, to take your shoes with you so that your seamstress can create the hem that will be best fitting to the height of your shoes.
The Style- The style is the most important element to purchasing the shoes. When you are buying your wedding shoes you have to ponder over the fabric, the height, the style, and the color.
When selecting the fabric, you want it to complement the dress. Satin and silk are the more traditional ideas for shoe fabrics but it's totally up to the choice of the bride. Do consider the weather conditions because rain can ruin these materials.
Embellished shoes are a fantastic way of making a statement. There are a lot of shoes that are embellished with pearls and jewels that are absolutely stunning. There are also a lot of great custom designers that can make shoes that are fit for a princess. Be sure that you relate your ideas clearly to your embellisher so that they get your design close to perfection.
If you want your shoes to match your dress perfectly, you have the option of getting fabric shoes dyed to match the dress.
The style of the shoe is everything!!! It is so important that you chose the shoes that fit your personality. There are chunky heels, lace booties, pearl and diamond encrusted shoes, and so many more. Some women are wild and crazy and actually get a pair of colored shoes. Be true to you!
Congratulations on your wedding and good luck on your shopping experience and remember that any shoe that you buy, you get it because it's the shoe for you!
What are your thoughts or tips on purchasing wedding shoes? We would love to read your ideas.
(Visited 118 times, 1 visits today)