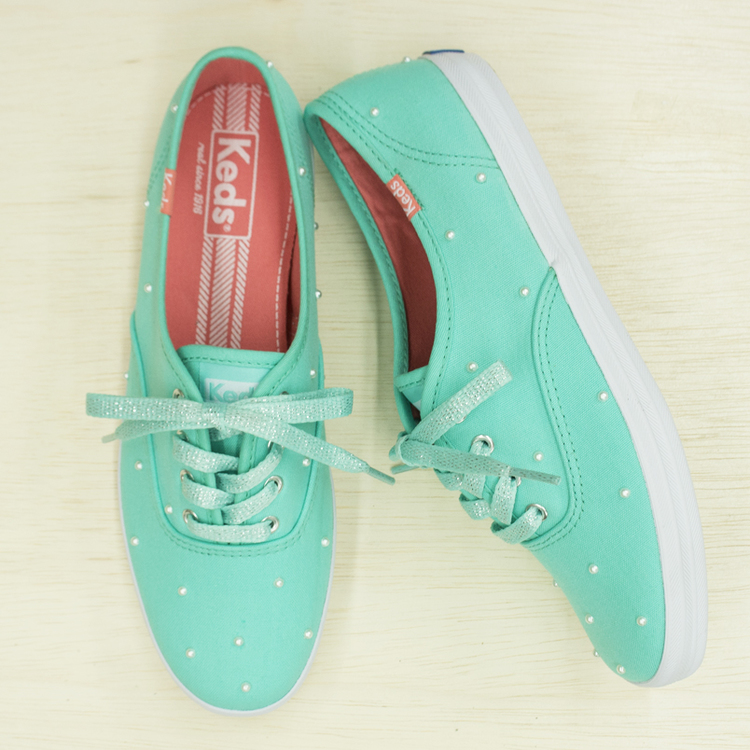 Are you ready to give your sneakers a unique fashionable twist? How about adding some pearls?
Rwbeyondthebox.com,  has come up with a great way to give your sneakers new life with an awesome DIY that will show you step by step how to dress up your sneakers with pearls.
This DIY works best with some simple Keds like those pictured!
Rwbeyondthebox.com shared:
"We are obsessing over this seasons color trend, with Keds Teal. So how about dazzling a pair with a polka dot of pearls. Here are a few easy steps to turn your Keds from playful to dazzling."
We loved it!
Adding pearls to these rich-colored sneakers are fashionable enough to be worn no matter where you go! We see these kicks with a white dress and a really cute sun hat. You can also pair these sneaks with white jeans and a blue denim top. You can't go wrong!
The task is incredibly simple and fun to make and the best part is all you will need is a paper plate, EZ6000 Glue, Tweezers (to hold the pearls, found at a local craft store), Pearls  (Recollections Adhesive Faux Pearls, found at a local craft store), and a pair of Keds.
To learn how to make your own, check it out here.
What do you think of the pearl sneaker trend? Would you try it at home or would you have a professional do the work for you?  Comment with your thoughts, we want to know what you think!
BONUS: This is a great DIY idea to create as a holiday gift! All you need to know is your loved one's sneaker size and their favorite color. Get the sneakers at least one week before the holidays and begin bedazzling!
Photo Source: rwbeyondthebox.com
(Visited 178 times, 1 visits today)