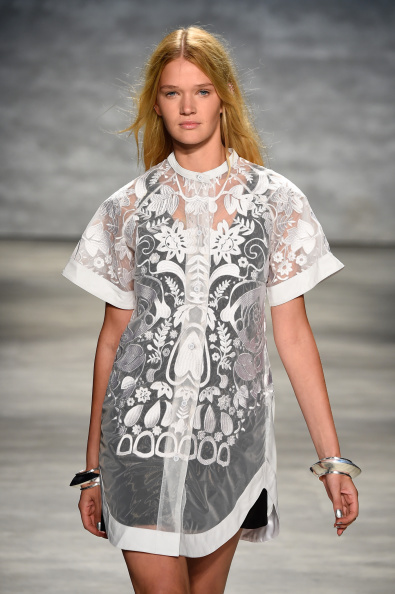 New York Fashion Week (NYC) — On September 9, 2014, I attended one of the best shows to date in fashion that is focused on the new generation of fashion elite that are adventurous, rebellious and mysterious. The Skingraft fashion show that took place at the Pavillion, inside the Lincoln Center, was hands down the most outstanding and notable. Always pushing the envelope, Jonny Cota gave us avant-garde fashion that will be the trend setter for the Spring/Summer of 2015.
Although Santa Sangre (Holy Blood), to some may be an unsavory title to a collection because of religious taboos, the clothing will make even the most religious follower forgive Skingraft of its naming sin.
Opposite of the usual signature colors from Skingraft; I was in total awe to see the many white pieces that Jonny, "the man of black", delivered to his cult-fashion followers. A few red and black items came down the runway; but it was the cuts, designs and patterns chosen to create the angelic looks from the color white made his use of the color clean, crisp and must-have wearable art.
Here are a few items that we forecast to be the hot trend of the Spring/Summer:
These innovative silver and white leather leggings that resemble the skeleton were the highlight of the entire collection. Fly and fashionable leggings will be a want of every fashion enthusiast.
Smoking hot! This smoky gray, fine cut, one piece bikini is sexy and chic. Adding the long hooded cover up jacket was the pièce de résistance.
Not your average T-shirt, this sheer embellished dress is outstanding! Heads will turn!
This red and black trapeze dress with patterns that resembles the make up of our skin cells is radiant. The leather detail was complemented with a chic large silver statement necklace.
All white everything is the "it" look! This white shirt dress with a white and mesh leather moto jacket takes every fashion trend to new heights!
Jonny seems to put in his blood, sweat and tears into every single piece that he creates. There is nothing to stop him from creating more exciting pieces in years to come.
Trend Report:
All white everything
Leather
Sheer
Silver
Red and black
Trapeze dresses
Artistic leggings
COVERAGE PROVIDED BY: MS. ELITOU (@tweetyelitou)
Photos Provided by: Getty Images
(Visited 117 times, 1 visits today)