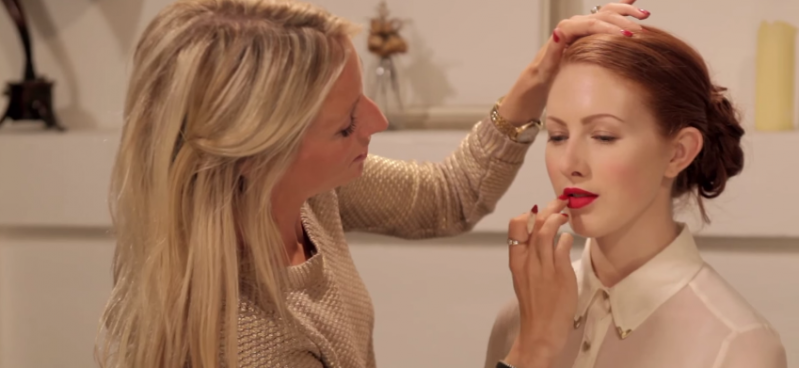 Have you ever wanted to learn how to create the perfect red lip without the fuss? If you answered, yes, than this is the makeup tutorial you need to add to your achieves—ASAP!
We found this amazingly quick and simple makeup tutorial on Youtube by Tescolifestyle, that not only shows you how to apply the perfect red lip but also how to make them last throughout the day and look flawless at all times.
Featured in the video, "How to Create the Perfect Red Lip", make-up artist Liz Beckett shows us step-by-step, how to get the perfect red pout effortlessly. A look that adds instant gorgeous glamour and suits all skin tones due to the variety of shades that can be chosen. Cooler shades of red suit most skin tones, but darker skin tones can take a warmer red with a hint of orange.
We love this tutorial because it can easily be done by a beginner. And as we all know, red is one of the best lip colors that go impeccably with pearls, especially white stand necklaces. Overall, we think this video is appropriate for all of you awesome pearl enthusiasts!
We think this look will be amazing with the following pearls:
To see the tutorial visit youtube.com/tescolifestyle.
The red lips will be greatly complemented with a pair of our "White Baroque 9-12mm South Sea Pearl Necklace". Absolutely stunning!
And our beautiful, "Jodie Earring Set – White AA 6-7mm Japanese Akoya Pearl Earring Set". Amazing!
Visit www.tesco.com/beauty for more how to videos, product guides and trend inspiration.
What do you think of the look? How do you wear your red lips? What would you wear with this look?
Share your thoughts…
Photo Source: Tescolifestyle
(Visited 203 times, 1 visits today)