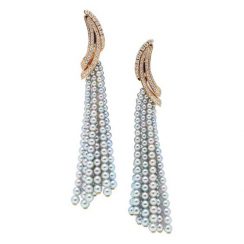 The Akoya is the most popular pearl on the market, usually seen in pearl strands, but also in earrings. These pearls are the specialty of Japan's pearl farms. Akoya pearls were first cultured in 1893, displaying a beautifully white color. They quickly became a favorite for elegant jewelery such as Akoya pearl earrings,  Their high value and quality is the reason why you will always find them set with yellow gold or white gold clasps and posts. The Akoya pearl was the one with which Kokichi Mikimoto started his pearl cultivation enterprise. The Akoya oyster is the smallest pearl-producing oyster, which is why Akoya pearls are available mostly in sizes of 3-10 mm. These oysters live in water depths of 1-5 meters and they produce such great pearls thanks to the perfect oceanic climate.
The beautiful luster and the rich variety of colors make the Akoya pearl the symbol of elegance and sophistication. This being said, Akoya pearl earrings are a must have for all women who want to express their class and beauty through the magical gleam of pearls. Below are listed just some of our suggestions regarding the way in which you should wear such earrings:
1. Akoya Pearl Earrings with White Gold
You can easily recognize an akoya pearl earring by the beautiful gleam of the pearl and the quality of the gold. In this case, if you dress to impress, do not forget these beautiful earrings that will match any face shape and haircut, displaying a beautiful combination of pearls, diamonds and 14k white gold.
2. Black Akoya Pearl Earrings
These perfectly (AAAA) shaped pearls create an outstanding set of earrings, with perfect shine and luster to their 8.5-9mm diameter. These large pearls are set on stud posts and their timeless beauty will make for a magnificent appearance whenever you choose to wear them. Ideally, you can combine them with a bracelet and wear them at your future business meeting, they will definitely catch everyone's eye. The major advantage of these earrings is that they go well with every face shape.
3. White Akoya Pearl Stud Earrings
These 7.5-8 mm pearl earrings are the most versatile that you can possibly wear. If you like pearl stud earrings but black is not your color, choose the white option and the result will be fantastic. They match every skin complexion and eye color, to say nothing of hair color. You can wear them solo or with a pearl necklace, going to work or to a party, the possibilities are endless. Just make sure you wear your hair in a half-up half-down hairstyle, to give maximum visibility to your earrings.
4. Japanese Akoya Pearl Earrings in Gold Design
If you have a pixie crop cut or a medium bob, dangles are the earrings you are looking for! These stunning 6-7 mm white Japanese Akoya earrings will match any classy outfit in every elegant setting. The 14K yellow gold dangle gives and additional glow to these earrings and goes extremely well with the white pearls, so that the overall appearance will be a high quality one.
5. Akoya Cultures Pearl Earrings with Silver Huggie Hoop
These are the ideal choice for women with short hair that want to look ravishing and elegant at any family reunion or fancy dinner. Silver huggie hoop earrings with pearls work actually with all types of haircuts, but they look better on women with shorter hair than on women with long loose hair which masks the earrings, covering the ears.
6. Akoya Silver Sterling Cultured Pearl Earrings
If you prefer silver instead of gold, you can always choose a silver sterling pair of pearl earrings, especially if you have an oval face that matches all earring styles. This classic pair of earrings shows your natural beauty, thanks to the simple, yet extraordinary design. The sterling silver wraps each earring's stones in a fashionable rectangle that drops away from the beautiful Akoya white pearl. The 7-8 mm size is perfect for any age or style, so you can wear them at any event you prefer.
7. Akoya Pearl Drop Earrings
Whenever you feel the need to wear a high or low bun, go for pearl drop earrings that will shine beautifully between a few stray hair strands. These earrings are perfect also for a bob haircut, the splendid combination of pearls and white gold being suitable for all types of outfits. Whether you want to rock your new pearl drop earrings at a business meeting or a fancy party, just make sure that your hair is not covering your ears and, if possible, add a bracelet or a pearl necklace, your overall appearance will be stunning.
8. Chandelier Akoya Pearl Earrings
These magnificent chandelier pearl earrings look great mostly with hairstyles such as braids or soft ponytails. Actually, these will work with anything that will not get caught up in the earring and with hairstyles that elongate the face shape. Imagine just how gorgeous these vintage earrings would look on you at a birthday party or even a themed one. This piece of advice is valid also for teardrop pearl earrings.
Given the fact that your hairstyle and the pair of earrings that you're wearing always have a great impact on how you look, you need to carefully choose the right option for the right occasion. Your earrings and haircut should be on the same page, not in a competition, so try to match them according to your needs, face shape and haircut. And remember, long hair tangled in dangling earrings is never a cute thing, so try to go with flower clusters if you like to wear your hair down.
Needless to say, every woman should own a superb pair of Akoya pearl earrings, because they instantly give you an elegant look. This explains why celebrities love to wear this kind of earrings to red carpet events. Pearl earrings and the chignon bun hairstyle might just be the perfect combination for all future sophisticated events you will be invited to.  
(Visited 195 times, 1 visits today)