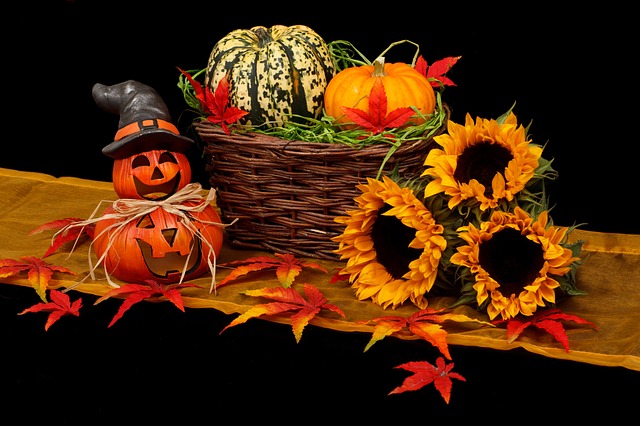 Halloween is almost upon us, and what would be a better way to enjoy this holiday than with a party.  If you haven't started planning yours yet then hopefully our tips of how to plan a proper Halloween this year should prove useful.
Organising the right kind of Halloween party will ensure that everyone who attends will have a great time, no matter their age.   Just remember this is a party where adults just like children can have some fun.
So when it comes to planning your Halloween party there are certain things you need to do first.
Tips On How To Plan A Proper Halloween This Year
Pre-Planning – Start Now
Normally it is best if you begin planning for Halloween at least a month before.  But sometimes things get in the way that stops you from doing this.  But you still have enough time now to plan and get everything you need to ensure that your party this Halloween is the talk of all your family and friends.
Pick A Suitable Day
Yes it is would be great to hold your party on Halloween night, but of course, it depends on what day it falls.   As Halloween falls on a Thursday this year, maybe you should organise your party for the Saturday before or after.
Make Up Your Guest List
When it comes to planning any party, of course, you need a list of those you wish to invite.  By doing this it will help you budget and plan out the space you will be using to celebrate this spooky time of the year.
Once you have your list of guests together, make sure that you send them invites ASAP.  You may even want to decorate your invites that you send out with some small stones like some little black pearls.
Of course, you could send them paper ones, but it is just as easier to send them ones by email or by messaging them on Facebook or through other messaging services.
Get Creative With Your Décor
If you intend to go all out with your party then one of the first things we suggest is you decide on a theme for it.  Make sure you let your guests know what this is.  You could buy the decorations that you need, but it is just as good if you create your own as well.   You'll be amazed, what you can do with just a little imagination and the Internet.
Rather than going for the usual haunted house decorate your home like the set of say one of your favourite scary movies.   You could even base your decorations on music going for something like a Thriller based one would be ideal.
Decorate The Day Of The Party
It is best if you decorate the venue where you will hold the party on the morning of it.   Make sure that you move any furniture out of the way so your guests have plenty of space to move around and talk or dance and of course play games.
As for the food, it is best if you place it in a location that is easily accessible to everyone.  Make sure that you don't leave the sweets in a place where the kids can get to them easily.  What you don't want to end up with is a load of children who are hyper or are being sick.
To make things easier you could ask some of your friends or family to help you with the decorations.  Not only will it take less time to do, but will also help to get everybody in the party mood.  Plus your friends and family may come up with some great Halloween decoration ideas that you hadn't thought of.
Have A Back-Up Plan
As we know the weather can turn with no warning, so it is important to have a backup plan in place.  If you are intending to hold your party outdoors, make sure that you have a room ready to use in case the weather suddenly changes and it rains.
Keep A Camera To Hand
Make sure that you have a camera to hand so you can take pictures that you can then share with others.   Why not make up a special folder on your computer or buy yourself a photo album in which you can keep the pictures you take from each Halloween party you hold.
You may find it fun to see just how much your guest's costumes evolve over the preceding years.   Also worth thinking about having someone take photos of your guests as they arrive and give everyone a copy as they leave or send it to them so they have something to remember your wonderful party by.
Organise Some Games
Nothing helps to get everyone in the party mood than a few games.   There are plenty of spooky ways to have some real fun and you can tailor the games so that they are suitable for children or adults or both.
Here are just a few ideas of Halloween party games to think about playing at your party this year.
Guess The Monster Parts
In various boxes with holes in the lids place a bowl in which you put various foods to symbolise parts of the monster.   Then with the lights down low get your guests to reach inside the box and try and guess what the monster part is.
2. Pumpkin Bowling
This is a really simple game that everyone will enjoy playing.  All you need is 6 empty large (2-liter coke bottles).  These you will use as the pins.  Why not ask your children to decorate them with Halloween images using some glue and paper.   Now all you need are some pumpkins (different sizes) that can easily be held and which you will be used as the bowling balls instead.  Remember to remove the stems and even get the children to reset the pins after each throw.
If you are going to be playing any games at your Halloween party make sure you have some gifts that you can present to those that win them.   It doesn't have to be anything really special, but maybe something like a small medal or some nice chocolates.
Planning Your Costume
What costume you wear of course will depend on the theme of your party.   If you are going down the movie or TV show route then, of course, you have a great choice of costumes to select from.
Here are some great Halloween costume ideas for you to consider.
Morticia And Gomez Addams
These are everybody's favourite creepy couple.  So why don't you and your partner transform yourself into them?  You probably have the clothes already in your wardrobe that are suitable, but of course, you can purchase the outfits you need online as well.   To really add a touch of glamour to your outfit why not wear a beautiful black pearl necklace as well.
Midge Maisel
If you want to go down the glamour route then of course dressing as the main character from The Marvelous Mrs Maisel is the perfect one.   You could easily dress as her by getting a cute little hat, you've probably already got the perfect little black dress to wear.  Now to finish off team the outfit up with a pair of long satin gloves and a pearl choker and earrings.
Go Down The Who Done It Route
There are plenty of characters from those in many of Agatha Christie's books as well as from the game Cluedo that would be ideal for you to come as at your Halloween party.   All you need to do is pick the character you like the most to be able to dress up as.   The great thing is that these characters all will add a real touch of glitz and glamour at your Halloween party this year.
Whether you choose to attend your party as Mrs White, Miss Scarlet or Mrs Peacock, you will be able to find a suitable costume to wear.   When it comes to Mrs White or Miss Scarlet you can be a little more daring.  Go for an off the shoulder dress and team it with a pair of white long gloves and again some beautiful pearl jewelry.
Hand Out Party Favours
Do not forget to let your party guests leave at the end empty-handed.   Make sure that you hand out party bags as they leave.  For the kids, of course, it can include some sweets in them, as for the adults maybe a little something they like such as some nice chocolate.
Hopefully, the ideas we've provided for you above will really help your Halloween party this year goes off with a bang (not literally).  We are sure that your family and friends will continue to go about it for quite some time.
Here at PearlsOnly.com, we have a great selection of Pearl jewelry that would look stunning worn with any of your Halloween costumes this year.   Not only could you wear it as Halloween jewelry but also throughout the year.
(Visited 32 times, 1 visits today)