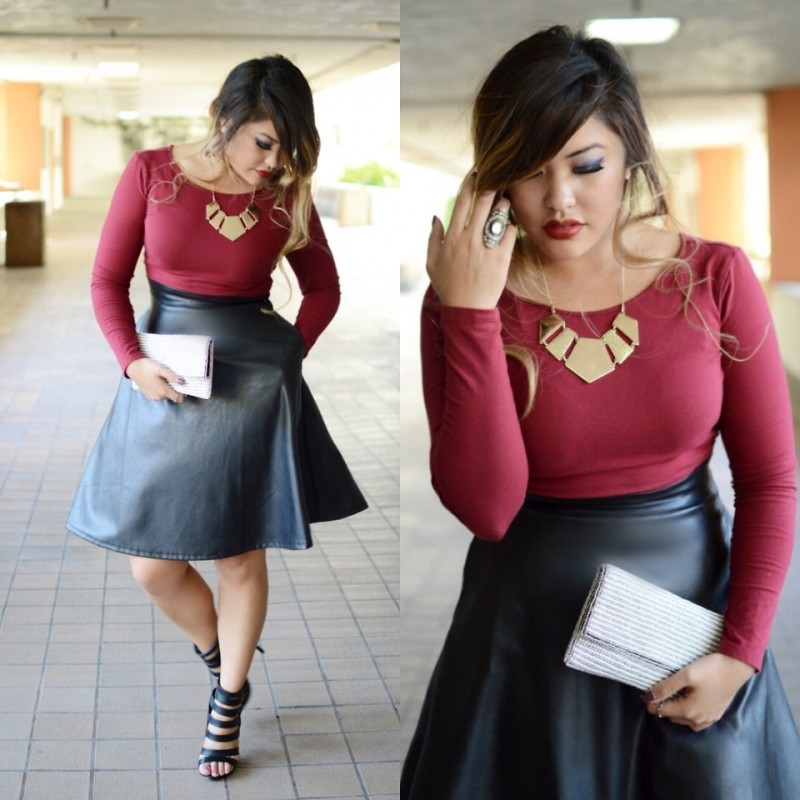 This Fashionista was chosen as our "Fashionista of the Day in Pearls" because she looks great in her leather inspired skirt and chic accessories, including a pearl clutch!
Tiffany L., fashion blogger of F.A.M.E, showed off her chic style with a cute PU Midi Skirt, a long sleeve crop top, and a chic pearl beaded clutch by Forever 21, along with cutout sandal heels by Zooshoo.
On her blog she spoke about her clothing inspiration:
"Fall has begun and it's time to dress a little warmer. Here's a light weight outfit that's a great transition from summer to fall. The majority outfit comes again, from Forever 21. I absolutely love the store and they always have great finds at such a low price. The top was about $8.80 and the PU skirt was around $17.80.
To breakdown the outfit; the top is a basic crimson color crop top with a scoop neckline and the skirt is made out of stretchy PU quality. What I really like about the skirt are the pockets. With these two basic pieces, you can really make a lot of different outfit with them. When it gets a little cooler, I would pair this skirt with a loose sweater and a hat which would be perfect for the California winter.
The heels are from Zooshoo which I got at a warehouse sale. They are really comfy and have a zip-up back closure. I'm sure they still have similar styles on their website. (www.zooshoo.com). The necklace and clutch are also from Forever 21 but I got them a year ago so they may not be in stores anymore. I'm sure there are similar styles if you Google on the internet."
We think this Fashionista looks great from head to toe, and we are sure that you will love her look as well.
What do you think? Does she look chic?
Visit Tiffany L. at her website: iheartfame.blogspot.com
Photo Credit: iheartfame.blogspot.com
(Visited 124 times, 1 visits today)