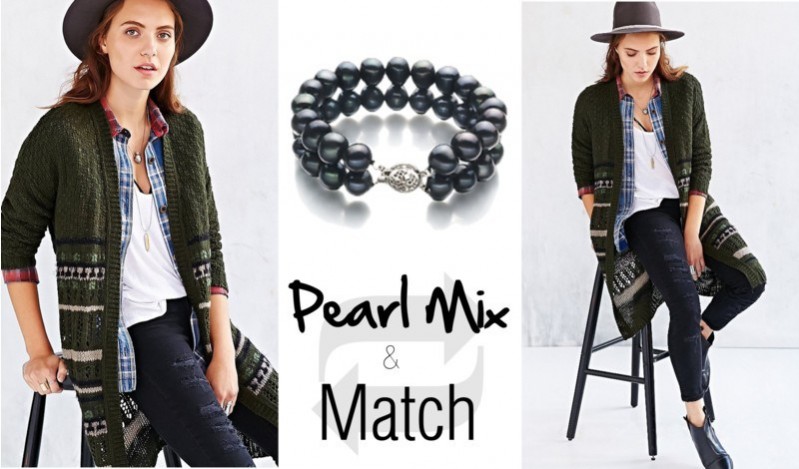 We, at Pearls Only, are forecasters of stylish must-haves items! This causes us to be constantly searching for items to add to our collection of great clothing and accessory items. We always look forward to sharing with you, clothing and accessories that you are in need of for your growing wardrobe!
Today in our "Pearl Mix & Match" we are going to show you a cardigan and pearl bracelet you should be getting now! The great combination of a long textured cardigan by Urbanoutfitters.com, and gorgeous pearl bracelet by Pearls Only is a fashion do!
No one can go without having a long cardigan in the cool fall and winter months. The stylish covers are warm and soft. What we like about this particular Ecote Slubby Textured Open Cardigan Sweater is the knit pattern which is simple enough to be worn with jeans and a t-shirt. It comes in three different colors but we especially love the green which is featured above. The cardigan from boho brand Ecote, only available at Urban Outfitters, features an open-front that cuts below-the-knee, a ribbed-banded hem and banded cuffs.
The cardigan looks amazing with the Pearls Only Black A 8-9mm Freshwater Pearl Bracelet because the double stand design is bold enough to catch attention but simple enough to be worn with every day wear including this chic cardigan. A nice way to add a classy edge is definitely with black pearls.
To make a complete look; pair with dark fitted skinny jeans, a pair of stylish high heel boots, and a cozy and chic scarf. Super trendy!
You can find the top at Urban Outfitters.com for $89 and the bracelet at Pearlsonly.com for $69, making the combination a little over $150.
What do you think of the look? Are you interested in seeing more fashion-forward trendy clothing?
Photo Credit: Pearls Only//Urban Outfitters
(Visited 114 times, 1 visits today)