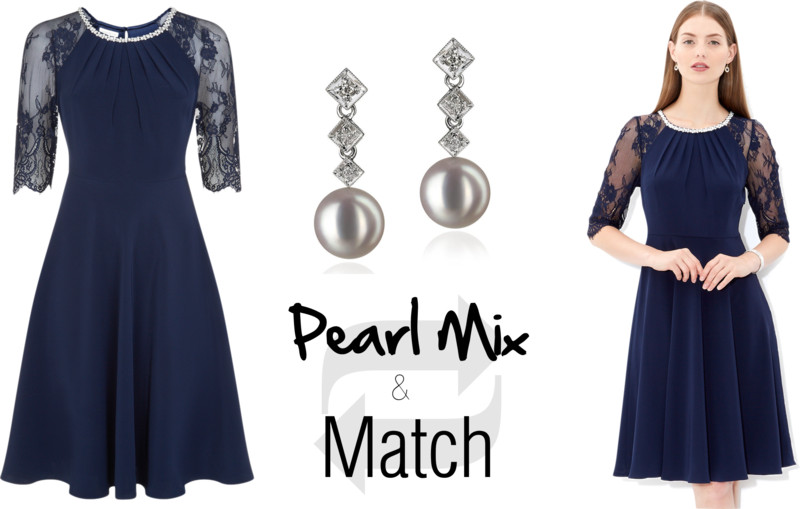 We, at Pearls Only, are forecasters of stylish must-haves items! We are constantly searching for items to add to our collection of great clothing and accessory items. We always look forward to sharing with you clothing and accessories that you are in need of for your growing wardrobe!
Today in our "Pearl Mix & Match" we have a cute dress perfect for a fancy occasion and pearl earings that are fit for any festive occasion. The great combination of this dress from us.monsoon.co.uk and beautiful pearl earring by Pearls Only is a fashionable look for all your classy outings!
What we like about this Kaitlin Dress from Monsoon UK is that this gorgeous dress features a flattering fitted bodice, gently flared skirt to the knee, lace sleeves and embellished neckline. How beautiful would you be wearing this dress to a tea party or wedding?
The best accessory for this lovely dress is the Rozene Earring Set – White AAA 8-9mm Japanese Akoya Pearl Earring Set from Pearls Only which is the perfect combination of pearls and diamonds. The earrings feature two 8 – 9 mm white Japanese Akoya pearls dangling from six diamonds totaling 0.09 carats surrounded by 14k white gold.
How to Wear
To make the look complete and elegant for your outing, wear with simple black pumps, an updo and a dazzling smile. You are bound to be known as the most stylish of them all.
You can find this dress at us.monsoon.co.uk for $228.00 and the gorgeous earring at Pearlsonly.com for $499.
What do you think of this cool accessory combination? How would you style the items? Would you invest in the items in our Pearl Mix and Match?
Are you interested in seeing more fashion-forward trendy clothing? Let us know…
Photo Credit: Pearls Only// us.monsoon.co.uk
(Visited 163 times, 1 visits today)