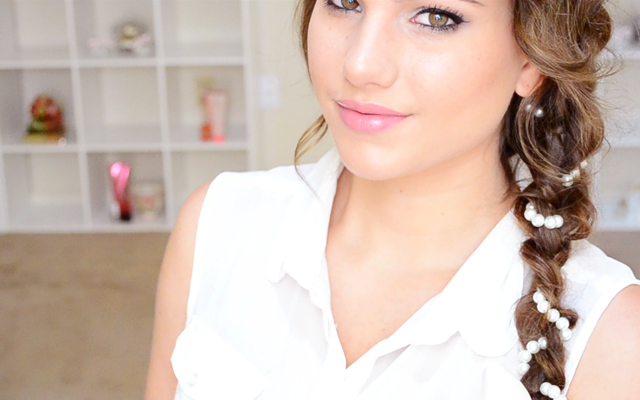 Halloween is almost upon us so preparations must commence! Ladies, we are sure that the broomsticks are out, the cobwebs are up and the pumpkins are being carved in the most grotesque ways possible, but of course, were getting our claws on what we think, are some of the perfect Halloween fashion ideas. Get ghoulish in style this year with a spookily and sexy party dress or a string of gorgeous pearls to keep it classy.
Halloween is a perfect opportunity for you to show off your creativity, but who said you couldn't do Halloween without remaining girls, gorgeous, elegant, and feminine and of course, oh and did we mention drop-dead gorgeous? Literally. It's all about accessorising that old prom dress, or adding the right accessories to a current outfit to create an effortlessly evil look. Lets have a look at some of our favourite ideas for the perfect for Halloween look.
Keep it subtle with some melo pearls
Firstly we know how some of you ladies out there prefer to keep it subtle at Halloween and have just a little something orange or black to signify that you are aware but you'd rather not go full force with it all. Behold, orange pears! Yes they exist and they are simply perfect for a little dusting of Halloween. This type of pearl is called a Non-nacreous melo pearls and they are produced by melo volutes, which are collected along the coastal areas of Myanmar as well as other paradise locations such as Indonesia, Thailand, Cambodia, and Vietnam. Developing in a range of shades and colors, the most coveted is that of the intense orange hue most commonly located in a ripe papaya. These beautiful and rather dreamy pearls showcase a silky flame-like structure and a porcellaneous luster, which causes them to look simply stunning and highly coveted. Like conch pearls from Strombus gigas, the meticulous melo pearls are exceptionally rare and to no surprise, have become collector's items both in the east and the west. Suprisingly, in Myanmar there isn't actually and written literature or historical references regarding the beautiful melo pearls. Very few people know about them and dealers and collectors in these pearls are equally rare. Theres a lovely little idea to make your Halloween memorable!
Sexy party dress re-worked
All of us girls have plenty of dresses hung in our wardrobes that we have only ever work once. Fancy something sultry and sexy for your Halloween party this year? Why not grab an old summer maxi dress, which can bring to you a gothic and dark look for Halloween. Ideally it will be black, red or white. As well as looking jaw droppingly beautiful in a figure-hugging maxi you can make it the perfect Halloween party dress by accessorising it with some black wings, or a long black wig and even some white face paint to get the Morticia Addams look! Why not put some fangs with it and be a vampire princess for the evening! See easy peasy, we are sure you can guess what to do if you have a red or white maxi…
Old prom party dress
Maybe being a demon isn't quite for you and you fancy something a little bit glamorous for Halloween this year? Maybe you want to catch a certain someone's eye? Well, a timeless classic chiffon number with a high front slit so you can show off your perfect pins would be an excellent choice. A gorgeous evening dress like this would look amazing with some golden Halloween accessories and jewellery, or why not add some orange glitter to your eyes for a dramatic Halloween effect! You can look as glamorous as you want, and doing something as simple as having orange eye shadow can give you the edge, and excuse of course that you have 'dressed up'.
For the daring ones
Everyone loves a girl who loves to get just a little bit silly! Why not find an old orange t-shirt or dress and go as a pumpkin! You can easily customise any clothing garment with some black stripes and eyes to make you more like a pumpkin and you can have so so much fun with the accessories. Now who said pumpkins couldn't be sexy? We'd recommend getting inventive with this fancy dress idea and wearing your hear in an up bun with a green fascinator and some black eye shadow. If your feeling very brave why not have a go at painting some orange pumpkin lines on your shoulders.
What are you doing for Halloween? Are you going to wear your Favourite re-evening dress or are you going to pull out something old from your wardrobe and jazz it up a little? If you are, we would love to hear from you and see what you have lined up to really stand out this Halloween. To look sexy, elegant and feminine this Halloween all you need to do is use your imagination and some useful props and accessories. If you have some white face paint, some false fangs, some fake blood and some black eye shadow, you can't go far wrong! Or, why not treat yourself to a menacing manicure or some ghostly acrylics?
HAPPY HALLOWEEN!
(Visited 84 times, 1 visits today)