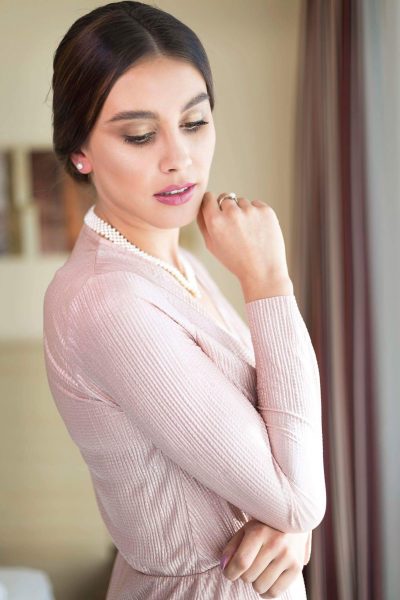 Are you making the list with things to try, achieve, buy, or explore in 2018? Well, we are here to show you that pearl jewelry deserves a fair place on your wish list. If you already are a pearl lover, then you know what to expect from pearls. But if you haven't owned a pearl accessory item in your collection by now, then you should definitely consider it. Read more to find out our main ten reasons for adding pearls to your wardrobe. There is something very special about them that deserve your ultimate attention. We promise!
WHY YOU SHOULD CONSIDER WEARING PEARL JEWELRY
There are various motives that encourage us to love and appreciate pearls. That is why we are committed to only offering you real pearl jewelry that lasts for years and years. We are in this business for almost 15 years and we strive to give you the best pearl experience. We offer top quality pearls without compromises leveraging technology to maintain low prices that no one can match.  Some of the most important thing learned during these years is that pearls bring tears of joy, they accentuate your natural beauty and they stand the test of time. So, let us present you what else you are actually receiving once you invest in a real pearl necklace, pendant, bracelet or pair of pearl earrings.
1. They are real and authentic. The main feature that makes pearls truly unique is given by the fact that they arise from the depths of the sea and not from those of the earth. They are a nature's wonder. Moreover, they do not need extra cutting or polishing to enhance their original beauty. Plus, pearl jewelry is not trying to imitate another gemstone. It is exactly the other way around. Other gemstones try to imitate pearls. Of course, you will find many fake pearls on the market. Fortunately, this is not the case here. Pearls Only will save you from embarrassing or unpleasant moments since we only sell real pearls.
As a result, with every purchase you will receive a certificate of authenticity. You will find a Certificate of Authenticity and Appraisal enclosed with all shipped items. Prepared by a Pearl Expert with over 15 appraising experience, describes your item in detail, specifying technical details about your item, such as pearl size, color and body shape. What is more is that the certificate clearly states the value of your pearls were you to purchase them in a retail store and is also your assurance of the quality of pearls.
2. Pearl jewelry can symbolize many values, thoughts, principles. Throughout history, pearls have always been highly cherished as symbols of perfection, beauty. In ancient times, pearls used to symbolize the moon, protection against fire and evil characters, or purity. There are numerous legends, myths, and stories behind pearls in every culture of every age and for all the right reasons. Pearls have something quite magic and special to them, something so eerie, so gorgeous and so precious they make every woman fall in love with them.
3. Pearls are classic pieces of jewelry that express timeless beauty and elegance. They are not pompous. They are sophisticated. Another thing is certain when it comes to these little wonders – they will never get out of fashion. Therefore, you should never consider them as an obsolete item. There are absolutely no worries or regrets when purchasing a string of pearls or a beautiful pair of white pearl earrings. At least there should be no second thoughts. Pearl jewelry will always be in style.
4. They make you look more elegant, classy, chic. Remember your old black dress? You can update it with a beautiful and affordable freshwater pearl necklace. In this way you will obtain a sophisticated, yet effortless look. Pearl jewelry is so versatile that not only you can create elegant looks, but you can also wear them with business outfits or casual clothes. They are appropriate during formal day events or evening meetings as well. Moreover, pearls will enhance a woman's skin making her shine and glow. White pearl jewelry represents a perfect first accessory addition to a wardrobe. A simple, yet gorgeous and classic pearl necklace is simply the perfect gift for every occasion. Another advantage that pearl jewelry has is that you can pick them according to your age. Younger ladies wear small or medium pearls, while older ladies can wear bigger size pearls.
5. They represent an outstanding gift. Classic, elegant and always sophisticated, pearls have always been one of the most popular and meaningful gifts. Often given to mark a milestone moment – like a Sweet 16th birthday, wedding anniversaries, graduation day, Mother's day or a wedding day gift from the groom to the bride – pearl jewelry istimeless and will be well‐ Your sentiment will definitely be appreciated. If the woman's style is classic, then the more traditional and classic pearls are the best choice. You can also try our Pearl Wizard (just go to our home page and you will find an interactive questionnaire). Let us help you choose the perfect pearls they'll treasure and enjoy for years to come.
6. They can instantly lift up your spirit. Given the fact that they are a natural result produced in the sea, these little treasures can change your mood as soon as you put them on your skin. Pearls, just like people, have a personality. And matching the right pearls to your personality is essential. It's true that some experts claim that the best manner in choosing the perfect pearl is your skin tone. As a result, women that have fair to light skin tone can easily wear pearls with a rosy overtone, while women with a darker skin tone will look best in black or cream-colored pearls. But you can always coordinate your pearls with your outfit. Read our pearl color guide article and find out what color matches your personality best.
7. They make a great legacy for the next generations. Passing on a piece of pearl jewelry represents a beautiful habit that most of the families have embraced it. Plus, let's not forget about the tradition of giving pearls to the bride. There is nothing more thoughtful and heart-rending that giving and receiving a string of pearls that were truly loved and cherished. No other gem conveys more the warmth, depth, and eternal quality of love. Today's pearls can be tomorrow's everlasting legacy. Begin a wonderful tradition now!
8. They are characterized by diversity and they can easily transform a dull/basic outfit into a spectacular one. If you're looking for a spectacular piece of pearl jewelry, you can choose between new and antique pieces. Our online store contains the following collections of pearls: freshwater pearls, Japanese Akoya, Hanadama pearls, Chinese Akoya, Tahitian pearls, South Sea pearls, White South Sea Pearls. Moreover, you will be able to find white pearls, black pearls, pink pearls, lavender pearls, gold South Sea pearls and even multicolor pearls.
9. Pearls will always be preferred to diamonds. Royal queens, princesses and high class ladies are wearing pearl jewelry on important occasions. Moreover, many famous actresses consider pearls they favorite jewels. Another advantage is that you can wear them with any other gemstone without any intrusion. Just check the photos of various fashion icons to get inspired on how to wear long strings of pearls or pearl sets without giving the impression that it's too much.
10. Last, but not least, pearl jewelry express the beauty and glamour of the 20th They were undoubtedly the favorite accessory of many style icons: Grace Kelly, Marilyn Monroe, Sophia Loren, Audrey Hepburn, Jackie Kennedy.  You can easily achieve classic and retro looks with the help of pearl jewelry. Get your inspiration from the Great Gatsby party outfits or study Coco Chanel's appearances.
To conclude, these are only the first ten reasons that we expressed in this post. There are so much more things that can motivate you to add pearls on your wish list for this year, but at the end of the day, if you don't feel they express your style, then they are not for you. Your femininity should identify and blend with the beauty of pearls in order to wear them naturally and effortlessly.
And now, can you honestly think of something negative when it comes to wearing pearls? Price has become extremely accessible, their beauty is eternal and they represent the most exquisite gift for you or the woman you cherish. In the end, nothing compares to them. Enhance your jewelry collection with a beautiful set of pearls and start writing your wish list now. Make sure to add them on that list. They will be one of your best 2018's investments!
(Visited 181 times, 1 visits today)