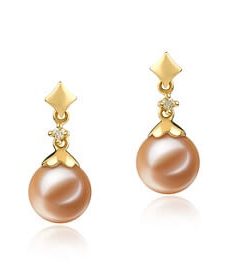 Drop pearl earrings are a staple of elegance and grace because of their delicate nature and chic design. Any woman should own at least one pair in her jewelry box because these earrings are extremely versatile and unexpectedly useful. We have prepared a list of 10 amazing pearl drop earring alternatives that should give you an idea of the immense potential of these glamorous accessories.
1. Long Drop Pearl Earrings
This is one of the classic models of drop pearl earrings that will make you look poised and elegant every single time. Pair these lovely earrings with formal attire as well as business outfits for your professional meetings.
This type of earring model is flattering for round faces, as well as oval face shapes. This set is a timeless piece that you can wear for many years to come because elegance never goes out of style.
2. Silver and Pearl Drop Earrings
This is one of the most delicate products on our list because of the subtle leaf model used for the lining. The black Tahitian pearls make this set suited for a wide variety of outfits, ranging from semi-formal to black tie events.
However, you should aim to make the silver model the centerpiece of your entire outfit because it is well worth showing off. You can wear these lovely pearl accessories with business suits, as well as cocktail dresses and you will look fantastic every time.
3. Silver Pearl Drop Earrings with Cubic Zirconia
The extravagant combination of black pearls, sterling silver, and cubic zirconia make these earrings the ideal accessory for virtually any type of evening event. Pair them with a white or light colored dress to get a delicate contrast that will make you stand out as poised and elegant.
You can also wear them with a black dress and make the sparkling cubic zirconia the key item in your outfit. The immense versatility of this silver pearl drop earring set with cubic zirconia makes it a must-have item for any woman. We guarantee that it will quickly become one of your favorites.
4. Baroque Freshwater Pearl Earrings
These freshwater pearl drop earrings are the ultimate type of extravagance. The unique shape of these lovely white baroque pearls will add a lavish touch to virtually any outfit.
Baroque pearls are suited for formal outfits, as well as semi-formal ones. This makes this earring set the perfect accessory for both daytime and evening events. The secret to the unique appeal of these pearls is their accessibility, which goes hand in hand with their delicate sophistication.
5. Gold Earrings with Pearl Drop
What could be more sophisticated than pink drop pearl earrings  with a luxurious yellow gold lining? This is a key accessory for evening events or other special occasions because it simply transcends elegance onto the entire outfit.
These gold and pearl earrings are a perfect match for formal attire and black-tie outfits. The delicate design of the yellow gold lining is perfectly in line with the champagne pink pearls. These color tones are suited for black and white clothes, as well as light shades of pink, orange, and blue. This makes these earrings a key accessory for evening events.
6. Tahitian Pearl Drop Earrings with Silver Lining
The refined texture of the Tahitian pearls in this earring set is perfectly highlighted by the carefully-crafted model of the silver lining. This makes this set a very special piece that you will wear time and time again.
Pair these Tahitian drop pearl earrings with business suits to get a very poised and professional look. Another excellent match is a black or white cocktail dress because it will look stunning alongside these lovely earrings.
The other main advantage they bring is the fact that they can be worn for both daytime and evening events. The immense elegance of the Tahitian pearls will provide you with stunning look every single time.
7. Drop Pearl and Diamond Earrings
This sophisticated earring set combines white Japanese Akoya pearls, white gold, and diamonds to create a uniquely refined piece. Its luxurious tones make it the ideal accessory for formal evening attire.
Moreover, the white diamonds enrich this piece tremendously because they bring out the immaculate white color and flawless luster of the Japanese Akoya pearls.
Wear these drop pearl and diamond earrings with evening gowns or cocktail dresses and all eyes will be on you. The white pearls are a symbol of feminine beauty and they will compliment your most delicate features in the best possible way.
8. Pink Drop Pearl Earrings with Diamonds
Another fabulous combination is that of pink pearls and diamonds. This extravagant earring set will make you look absolutely stunning because each of these elements will highlight your feminine features.
Add a touch of elegance to your outfits with this lovely pink drop pearl and diamond earring set. You can wear it throughout the day to enrich your professional attire. But you can also wear it with formal outfits and evening gowns. You will feel like a modern princess with these lovely pearl earrings.
9. Small Pearl Drop Earrings with Silver Lining
The most impressive thing about this silver and white pearl earring set is its uniquely delicate nature. These white AA freshwater pearls boast a classic type of elegance, while the silver lining adds a modern touch to the entire set.
You can wear them for the entire day, as they are suited for casual outfits, as well as semi-formal attire. This versatile piece will become an instant favorite precisely because it will prove to be so useful to you.
10. Drop Earrings with White Gold Lining
White Japanese Akoya pearls and white gold are a combination that will never go out of style. This timeless piece will provide you with a subtle touch of elegance that is simply impossible to ignore.
These AAA Japanese Akoya pearls have an impeccable luster and a flawlessly round shape that will enrich any outfit it is paired with.
Dare to be irresistible with this stunning piece of jewelry. This white gold and pearl drop earring set is the sophisticated choice for daytime events and the graceful option for evening events.
Whether you prefer the extravagant longer models or the delicate smaller ones with a carefully-crafted lining, these refined pieces will provide you with a unique touch of sophistication to your outfits. Each of these drop pearl earrings is a key accessory that you will simply fall in love with. The immense versatility of this classic earring design makes it a must-have item for any woman.
(Visited 128 times, 1 visits today)